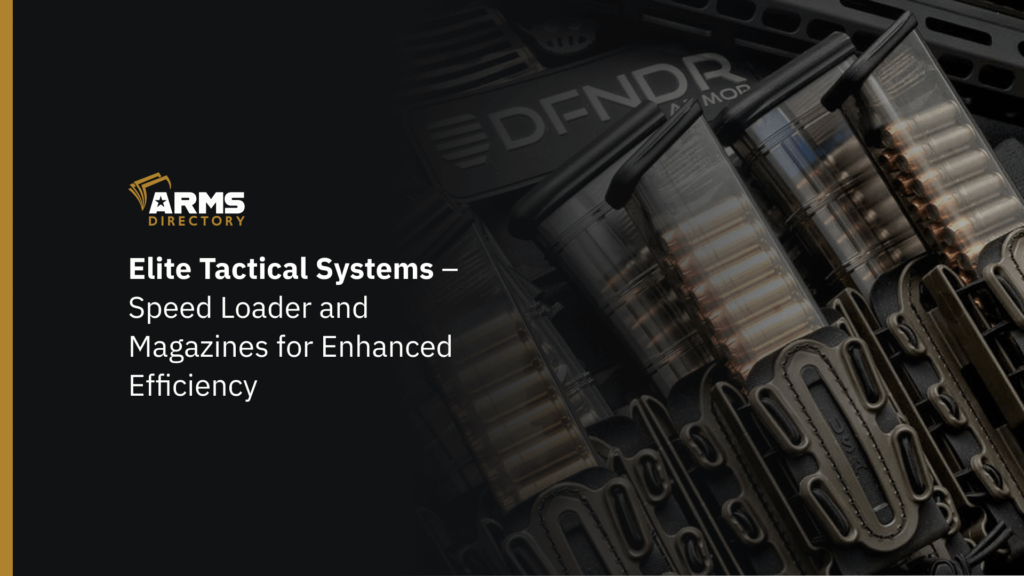 Elite Tactical Systems – Speed Loader and Magazines for Enhanced Efficiency
Today, we will be focusing on ETS – Elite Tactical Systems, a company specializing in speed loaders and magazines for different firearms.
Join us as we review the various ETS mags, ETS speed loaders, and more. Additionally, Todd Feldman from Arms Directory interviewed Stewart from ETS to discuss their products and how they can benefit firearms enthusiasts.
Who Are Elite Tactical Systems?
Elite Tactical Systems (ETS) is a renowned company that specializes in providing advanced tactical solutions and equipment. They are celebrated for their cutting-edge technology and innovative products, which cater to the requirements of both military, law enforcement, and civilian shooters.
With a team of highly skilled professionals, ETS strives to deliver top-notch gear that enhances performance, reliability, and efficiency in the field. ETS products are trustworthy and affordable with a lifetime warranty and are always proudly made in the USA.
What Do ETS Offer?
ETS Magazines
ETS mags are also well-known for their efficiency and reliability. ETS magazines ensure smooth feeding and consistent performance, with their innovative features and high-quality construction, giving users peace of mind in critical situations.
The company offers an immense choice of mags:
Carbon Smoke magazines for Glock, AR15, H&K, S&W, MP5, CZ EVO, and SIG.
Pistol mags for Glock, SIG, H&K, S&W.
CZ Scorpion Mags, MP5 Mags, and AR Mags.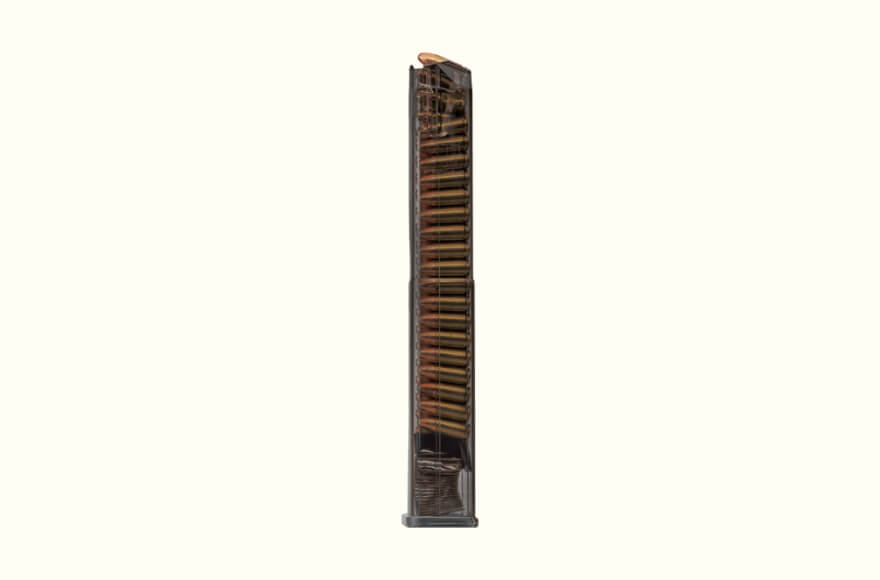 Related Post: SIG SAUER P229 Pro: Review & Specs – Arms Directory
ETS Speed Loaders
Typically, the process of loading magazines requires considerable time and can be quite demanding on the thumbs. Elite Tactical Systems speed loaders, on the other hand, are very easy-to-use, time-saving, and self-proclaimed as the "world's fastest speedloader".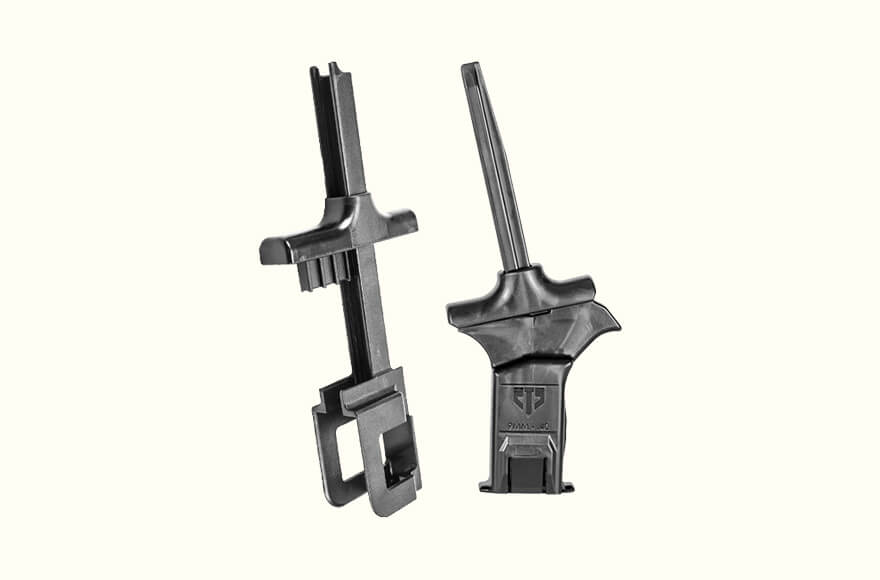 ETS Swag
Elite Tactical Systems also offer some really cool swag to perfectly complement your shooting experience. Pick your hoodie, t-shirt, shooting cap, or even buy an ETS gift card to surprise your friends and family.
Todd Feldman Interviews Stewart from Elite Tactical Systems
Todd: Can you tell us about ETS and your magazine speed loader for pistols?
Stewart: Our speed loader is designed for all 9mm and .40 caliber pistol magazines, and it works with any manufacturer, not just ours. It's easy to use and allows for quick and efficient loading of rounds. Just make sure the magazine is correctly positioned, pick up the rounds with the loader, and push them in using the plunger. You can easily load 10 rounds at a time.
Todd: What types of loaders do you have available apart from the one for 9mm and .40 caliber?
Stewart: We have three pistol loaders in total: one for 9mm and .40 caliber, one for .380 caliber, and one for .45 caliber. We also have a universal rifle loader that can be used with various firearms, including AR-15s, AR-10s, Scorpions, and MP5s.
Todd: Where can people find more information about your products?
Stewart: You can visit our website at etsgroup.us for more information on our speed loaders and magazines.
Todd: How much does the 9mm and .40 caliber speed loader cost?
Stewart: This particular loader retails for $29.99.
Todd: You also manufacture magazines, correct? What can you tell us about the ones you offer?
Stewart: We have a wide range of pistol magazines, starting with Glock and expanding to HK, Smith & Wesson, Scorpion Evo, and AR-15 magazines. You can find all the details on our website.
What Do Customers Say About ETS?
The best form of social proof always comes from customers. Let's see what people are saying about Elite Tactical Systems.
"Overall, I was extremely impressed with these magazines for the low price of $17.99. They're far superior in design to Magpul magazines, and they function as well, if not better. The upgrades you can get to the ETS system are the type of upgrades that are severely lacking in modern magazine technology."

AJ, Longview, WA
"I bought two back in 2015, they continue to be my preferred magazines. I'll be ordering more soon to replace the other Pmags I have, because they just fit better. Seriously worth the price."

Red, Texas
"I have three of these clear mags for my DDm4, and they work just fine. I have had no issues with feeding at all. Good price for an excellent mag."

William, Florida
"Best magazines I've ever used. I have almost 40 years of military and law enforcement experience. Your product is second to none. I heard about on Dan Bongino's show. Keep up the great work."

Steve, Texas
Summary
Elite Tactical Systems (ETS) truly provides firearm enthusiasts and professionals with efficient and easy-to-use speed loaders and magazines, all produced in the USA.
Their universal rifle loader and variety of pistol magazine loaders cater to the needs of various firearm owners. There is also a life-time warranty, and a 30-day money-back guarantee.
What is your opinion on ETS – have you tried their speed loaders and magazines? Let us know in the comments below, and don't forget to check out our business directory.