Account Creation and Settings
Create A Personal Account
Create a personal account by going to ArmsDirectory.com/register and entering your information. You will need to confirm your email address prior to showing in our members directory or being able to post. The 'nickname' you create during registration will be your @ handle on the platform.
Create A Brand Or Business Account
Business accounts differ from personal accounts in that they represent a company or brand. Business accounts are beneficial because they show up in our business member directory and can automatically be approved for claiming a free business listing (coming soon!).
To create a business account, simply follow the instructions in the personal account creation section above, entering your brand name in the name fields and picking an @ handle that represents your brand name. 
After account creation, you can request a transfer to the business directory by messaging @armsdirectory-support on the platform, or emailing [email protected]. In order to keep our business directory high quality, we perform a quick verification to ensure that all accounts belong to actual businesses.
Once your account is active, you can create a group for almost anything. Navigate to the groups page and click on the 'Create a Group' navigation towards the top of the page. It looks like this:

You can then select a group name, privacy options, forum options and more to make the group exactly as you like.
Profile And Privacy Settings
We've built strong privacy settings into our platform to ensure our users feel safe when using our platform. You can make changes to how your profile displays, as well as what information is a available to others by clicking on your profile in the site header and navigating to Account->Privacy.
You can easily block a member by navigating to their profile and clicking the 'block' button in their profile header. This may sometimes appear under the three dots 'more' menu: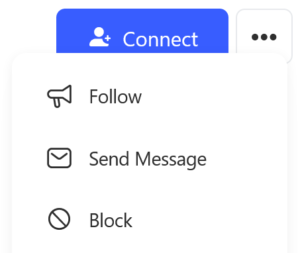 Blocking a member removes their activity from your feed, and blocks them from interacting with you on-platform.
Additionally, our staff reviews the accounts of members who are blocked to ensure they are not harassing our members.
As a community website, we rely on our users to help us identify content that goes against our community guidelines. You can help us by reporting this content using the 'report' option in the upper right hand area of any post:

After clicking the report option, you can give us any detail you desire as to why you're reporting the content.
We are a community of hunters, veterans, industry professionals and enthusiasts. We expect our members to treat each other with respect.
Arms Directory is a membership site and we, as well as our volunteer moderators, reserve the right to reject membership if a member is harassing others or facilitating illegal activity.
All firearm sales must be facilitated through an FFL. Even if your state does not require an FFL to be involved, we as a platform require it. Buy/Sell/Trade group owners, or owners of other groups that allow firearm postings are responsible for making sure their members are aware of this rule.
Prohibited Items and Activities
If it's illegal in real life, it's not allowed here. This includes activity involving 3D printing of ATF serialized parts, ghost guns, 80% lowers, etc.
You are free and encouraged to promote your interests on Arms Directory. While we do not have a strict policy on how often a user can post, users who are reported or blocked by other users due to over promotion of their interest, business etc. may be asked by moderators to reduce their posting frequency or change subject. This is a community website and it's up to us not to abuse the opportunity to communicate openly with each other.