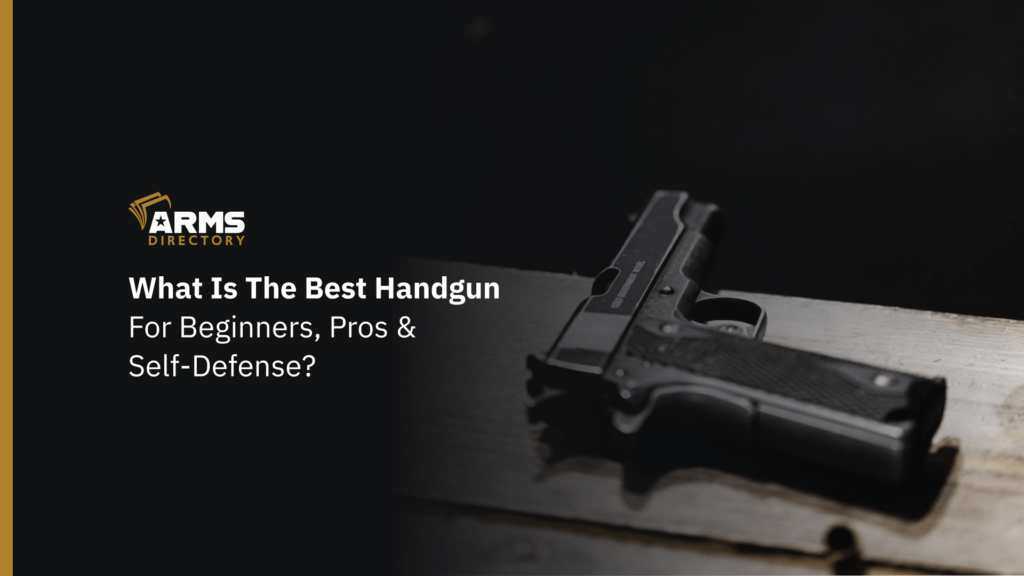 What Is the Best Handgun for Beginners, Pros & Self-Defense?
Guns have defined the history of mankind – from gunpowder to rifles, shotguns, and handguns. Who knows what the world would look like, if we hadn't invented guns?
For better or for worse, guns are here to stay. Therefore, it's best we know how to properly use them, and what types are suitable for our needs.
Today, in particular, we're going to talk about handguns: the main types, what makes a good handgun, how to choose the right one for you, and so much more.
Types of Handguns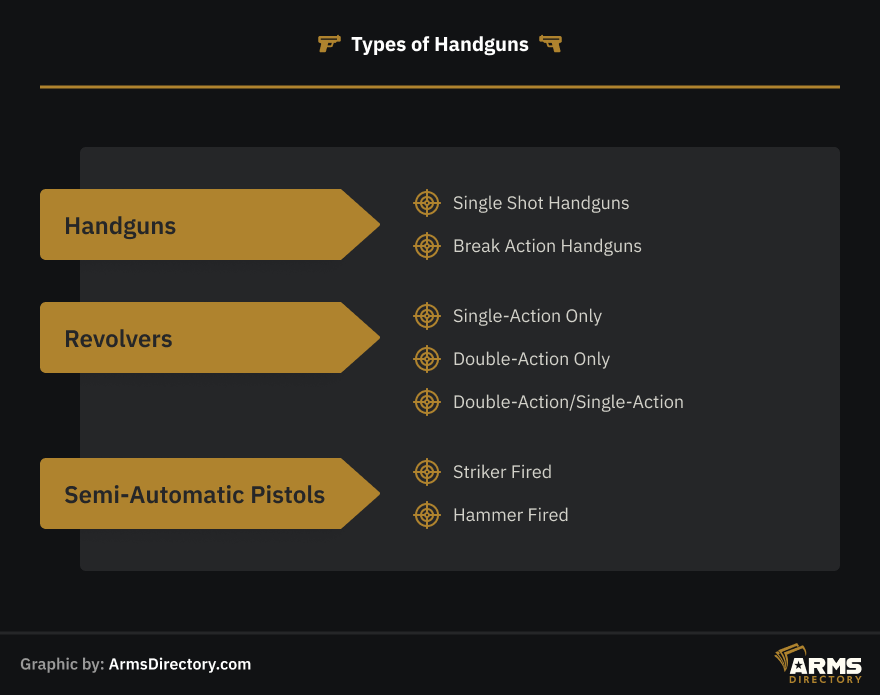 Before we go on to explain how to choose a handgun, it is important to understand the different types of handguns.
Handguns
Essentially, handguns are a type of firearm, which, as the name implies, are meant to be held and fired with one hand (sometimes with two), but without the use of other body parts. The term "handgun" is typically used for pistols or revolvers.
Single Shot Handguns . These types of guns can only hold a single round at a time. Single shot handguns are often used for hunting, but could also be useful for self-defense.
Break Action Handguns . Here, you need to manually open the barrel of the gun, or "the action", and manually load and unload the ammo. This action "breaks" open the gun, which gives it its name. Break action handguns are most commonly used for self-defense.
Revolvers
Single-Action-Only (SAO) Revolver . "The term "single action" implies that the revolver must be manually cocked to initiate firing. The classic Wild West revolvers are good examples of this.
Double-Action-Only (DAO) Revolver . With DAO revolvers, the gun automatically cocks the hammer, once you pull the trigger. Since two things happen one after the other, it is known as double action. You can also adjust the hammer on a DA revolver by hand, which usually results in a softer pull on the trigger.
Double-Action/Single-Action (DA/SA) Revolver . A more modern, hybrid type of revolver, DA/SA can be used as both a single-action, and double-action revolver, depending on the configuration.
Semi-Automatic Pistols
Hammer Fired Pistols . A spring-fired hammer strikes or hits the firing pin of a hammer-fired pistol when the trigger is pulled, forcing the pin into the cartridge's primer and igniting the firearm. Hammers are most commonly located on the outside of the gun, but there are some designs with internal hammers.
Striker Fired Pistols . A pistol that fires rounds with a striker behaves slightly differently than one that does so with a hammer. Instead of a hammer hitting the firing pin, a spring-loaded striker activates a striker-fired pistol by striking the cartridge primer.
How to Choose a Handgun: 6 Questions to Ask Yourself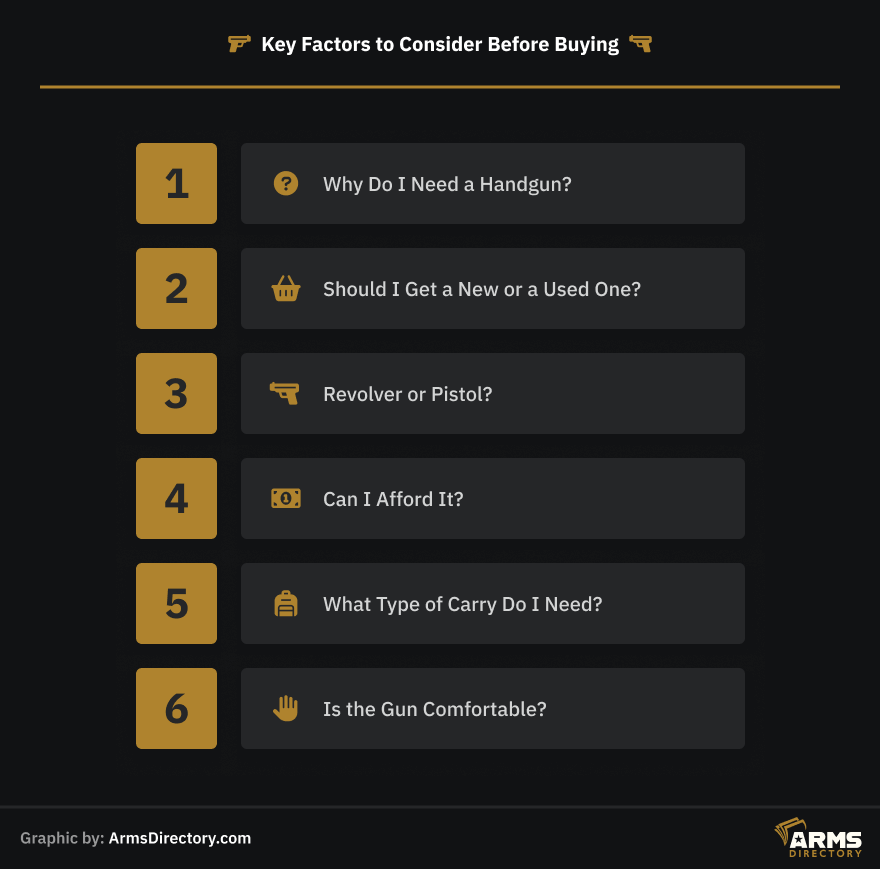 Why Do I Need a Handgun?
Should I Get a New or a Used One?
Revolver or Pistol?
Can I Afford It?
What Type of Carry Do I Need?
Is the Gun Comfortable?
1. Why Do I Need a Handgun?
Your weapon of choice will very much depend on the reason why you need it in the first place. There could be a number of reasons why you'd want to buy a handgun. It could be for self-defense, for target shooting, occupational requirements, and so on.
For instance, if you work in security, you need a powerful gun that is both safe and reliable, with enough magazine capacity. A gun for self-defense purposes should be easy to carry, ergonomic, reliable, etc.
2. Should I Get a New or a Used One?
The second big decision you need to make is whether you want a brand-new weapon, or are you willing to settle for a used one? Both options have their pros and cons.
A used firearm might come at a lower price, yet its condition depends entirely on the former owner. You should always carefully inspect and test second-hand guns before making a purchase.
Buying a new weapon is more expensive, true. Still, it might be the best option since it comes with a warranty.
Furthermore, in today's world, another question arises: Would you prefer to pick it up in person, or is it easier for you to buy the gun online?
3. Revolver or Pistol?
Once you've decided on the purpose of your handgun, you need to think about whether you want a pistol or a revolver?
The main advantages of revolvers are that they are extremely reliable, easy to use and control, and easy to maintain. However, revolvers are sometimes rather big and heavy, which is a disadvantage, not to mention they are also not the most suitable choice when carrying a concealed gun.
That said the most popular gun options for defense and professional service are, without a doubt, semi-automatic pistols. They are suitable for a wide range of uses, very comfortable, reliable, and have a high magazine capacity with fast reloading.
4. Can I Afford It?
When thinking about the overall cost of your handgun, don't forget to include the cost of the ammo among other things.
Reloading cartridges can save money on ammunition, but the final cost must include the price of bullets, powder, primers, cases, reloading equipment, cleaning the cartridge cases, and other expenses.
Also, if you buy a second-hand gun with a suspiciously low price tag, keep in mind that it may come with repair expenses that may exceed the initial price you paid.
5. What Type of Carry Do I Need?
You need to ask yourself how often you will need to carry your weapon with you, and what you will be carrying it in. Consider whether you need a holster belt or if you will carry your gun in a bag or backpack.
If you regularly visit a shooting range, it will not be a problem if you carry a heavy weapon in a case. However, if you want to carry the same gun under your T-shirt in the summer, it will likely attract unwanted attention.
6. Is the Gun Comfortable?
There's nothing worse than having to shoot an uncomfortable gun. In all cases, make sure that the design of the gun fits the shape of your hands. Also, consider the weight of the weapon.
It's no coincidence that light polymer frames dominate the market. After all, with an everyday carry weapon, you will feel every extra gram.
What Is the Best Handgun?
Now, let us take a look at some specific guns that will make a great weapon of choice for various scenarios.
Best Handgun for Beginners
Smith & Wesson M&P 2.0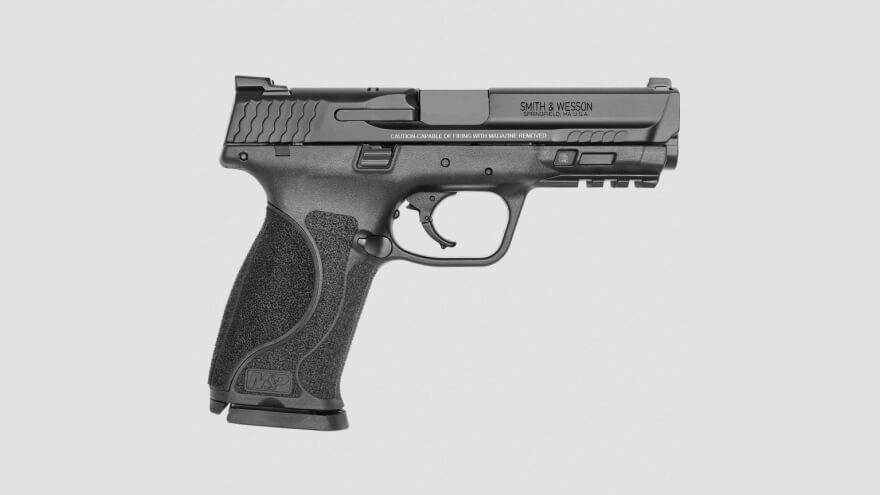 A nicely balanced 9mm gun that can withstand sweaty and wet conditions, ensuring a firm grip, which is essential for every firearms beginner. The S&W M&P 2.0 is also a perfect choice for concealed carry and can give first-time shooters a lot of confidence.
Specs:
Action type : Striker Fired
Cartridge : 9mm Luger
Capacity : 7, 8, & 17+1 round
Length : 7.4 inches
Weight : 1.55 pounds
SIG Sauer P320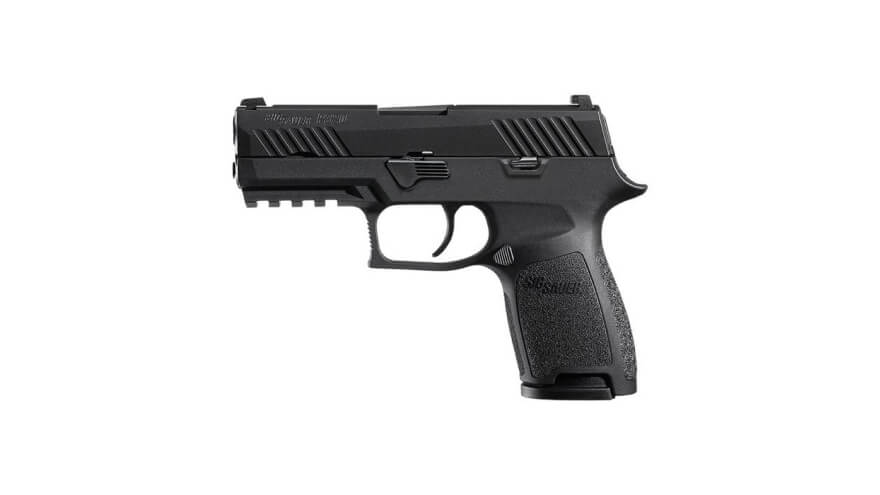 The SIG P320 is an extremely usable pistol with a fantastic construction, comfortable ergonomics, and a great stock trigger. This gun offers huge model and size variety, and comes with a standard 9mm round, making it ideal for beginners.
Specs:
Action type : Striker Fired
Cartridge : 9mm Luger
Capacity : 15+1 round
Length : 7.2 inches
Weight : 1.63 pounds
Glock 43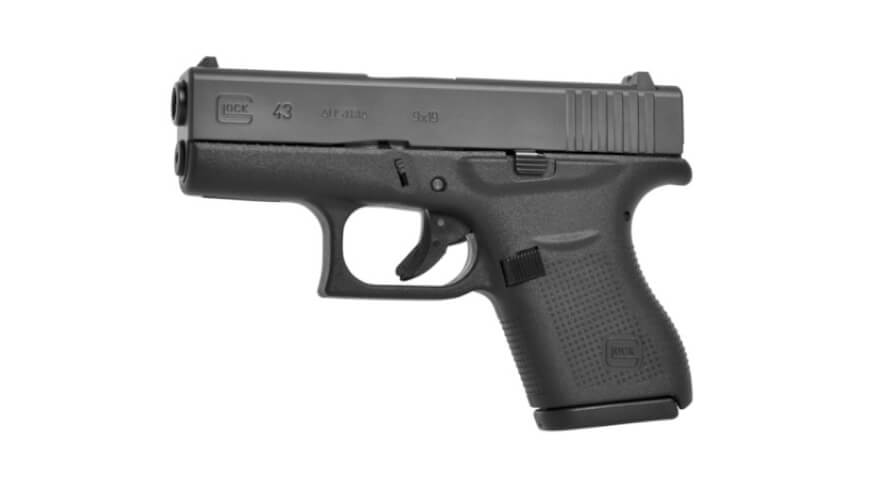 The Glock is one of the most reliable weapons in the world. Its small size makes it very easy to conceal, and it fits every hand smoothly, making it very comfortable for beginners and advanced shooters alike.
Specs:
Action type : Striker Fired
Cartridge : 9mm
Capacity : 6+1
Length : 6.26 inches
Weight : 16.3 ounces (unloaded)
Best Handgun for Female Beginners
Walther PDP-F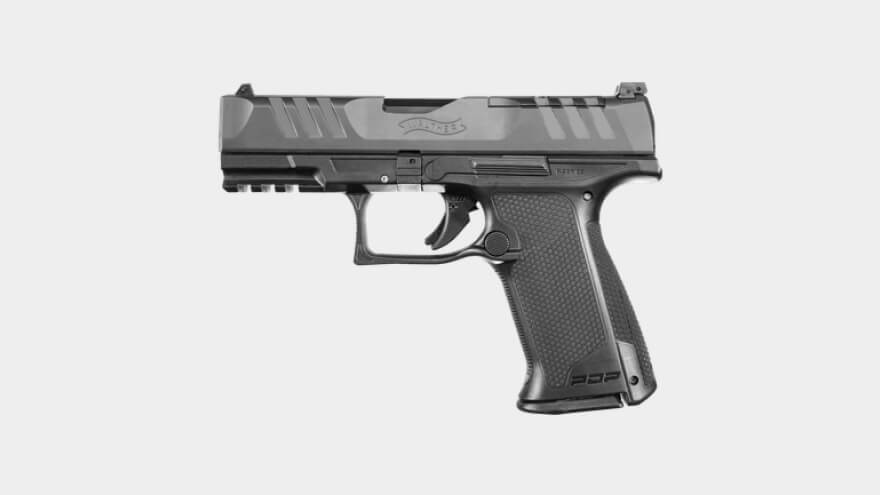 The Walther PDP-F series is designed specifically for women, so it's no surprise that we are including it in our list. This pistol is created to be accessible for smaller hands, it is also extremely straightforward to use.
Specs:
Action type : Striker Fired
Cartridge : 9mm Luger
Capacity : 15 rounds
Length : 7.25 inches
Weight : 24 ounces (unloaded)
Smith & Wesson CSX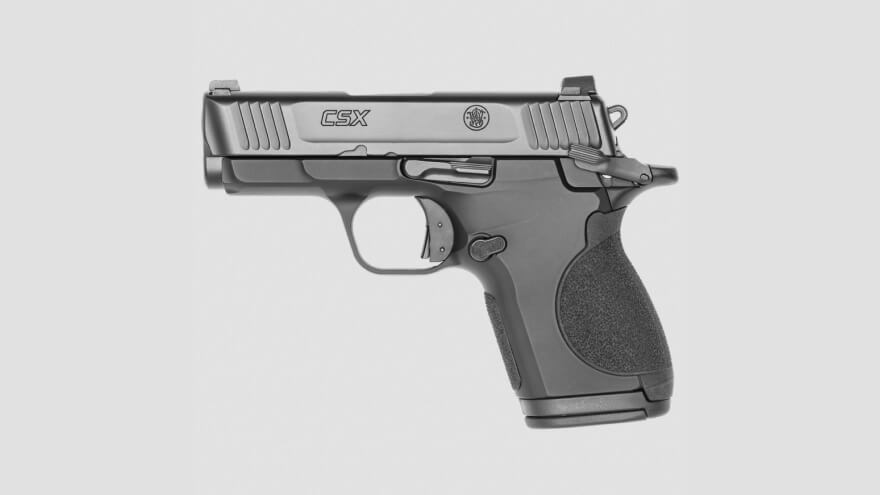 Easily one of the best concealed carry guns for women, the S&W CSX is a great gun for female beginners. Check out our review of the CSX.
Specs:
Action type : Hammer Fired
Cartridge : 9mm
Capacity : 10, 12
Length : 6.1 inches
Weight : 19.5 ounces
Springfield Armory Hellcat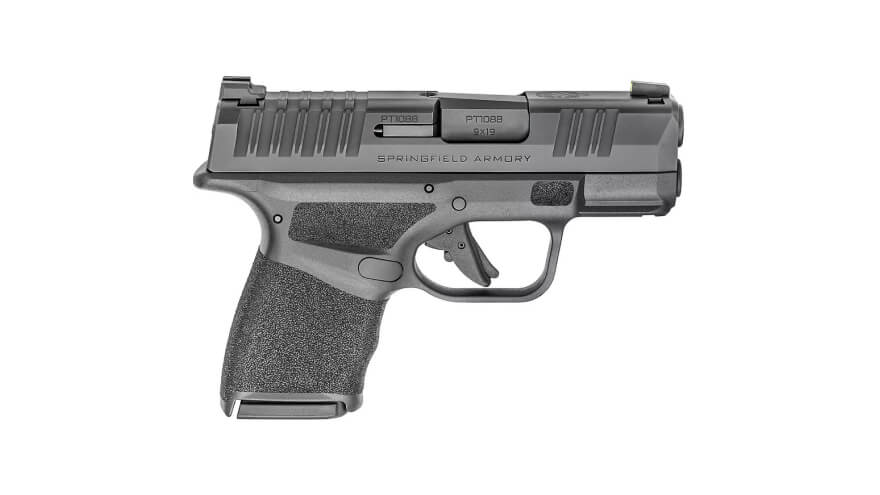 The Springfield Armory Hellcat is the highest-capacity micro-compact gun in the world. It is a great choice for both everyday carry and range practice, and it is an excellent self-defense weapon.
Specs:
Action type : Striker Fired
Cartridge : 9mm
Capacity : 11, 13
Length : 6 inches
Weight : 18.3 ounces
Best Handgun for Self-Defense
Glock 17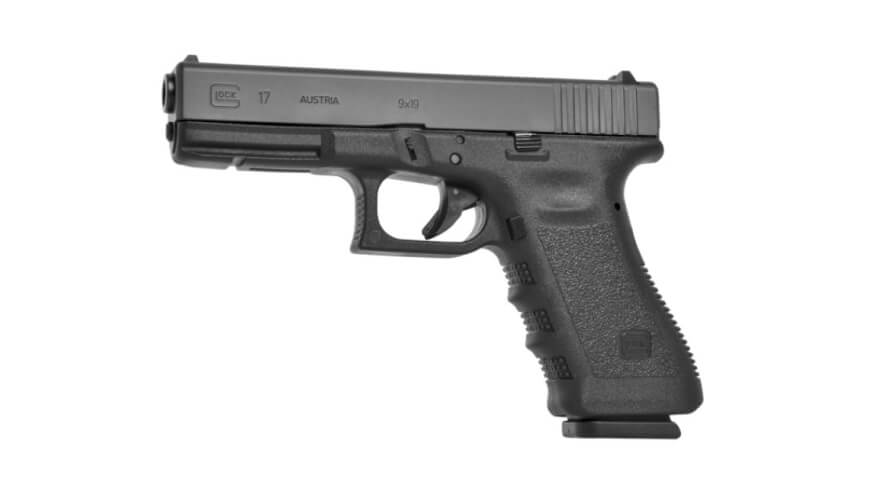 The G17 is a renowned gun. It is ultra-reliable, relatively ergonomic, and comes with a reversible magazine release.
Specs:
Action type : Striker Fired
Cartridge : 9mm
Capacity : 17
Length : 7.95 inches
Weight : 22.05 ounces
FN 509 Tactical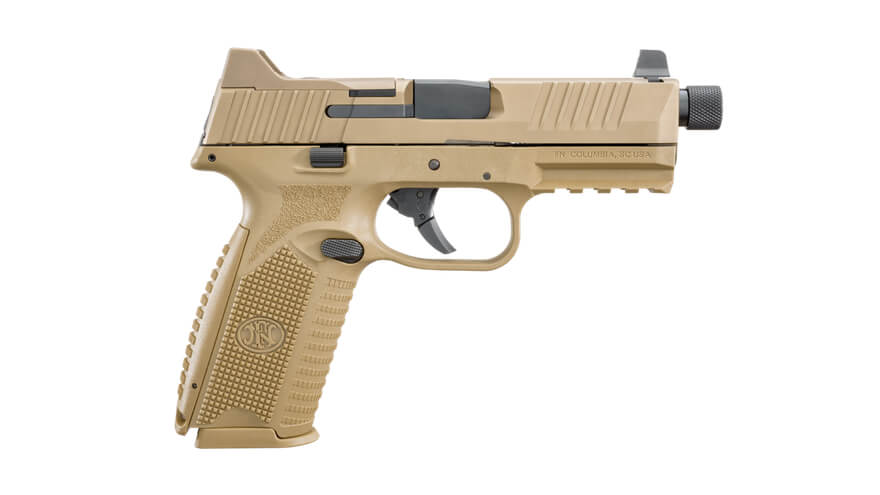 The FN 509 tactical is a great option for a self-defense gun. It's quite reliable, very comfortable, and possesses good shooting accuracy. Unsurprisingly, it was adopted by many police forces, including the LAPD.
Specs:
Action type : Striker Fired
Cartridge : 9mm
Capacity : 17, 24
Length : 7.9 inches
Weight : 27.9 ounces
HK 45 Tactical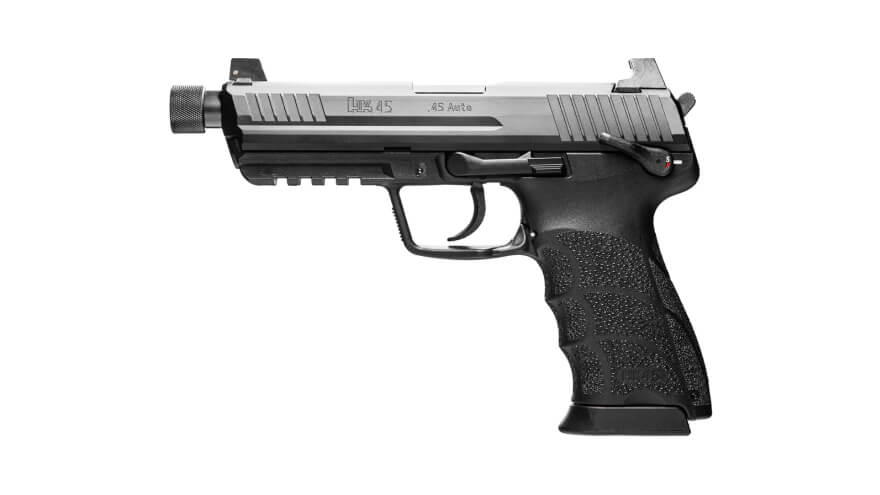 The HK 45 Tactical features great ergonomics, and reliable accuracy, and comes suppressor-ready. An excellent pick for a self-defense gun for beginners.
Specs:
Action type : Hammer Fired
Cartridge : 9mm
Capacity : 8, 10
Length : 8.0 inches
Weight : 25 ounces
What Is the Best Handgun Caliber?
According to most experts, you should choose the 9mm and 0.45 ACP cartridges if you are just a beginner and have never dealt with a handgun before.
The 9mm offers a good balance between stopping power and controllability and has a manageable recoil. It is definitely the best handgun caliber, especially for beginners.
Summary
Hopefully, after reading this article, you are now more enlightened on how to choose a handgun. Feel free to follow our advice regarding what is the best handgun for beginners, and do not hesitate to ask your questions in the comments below.