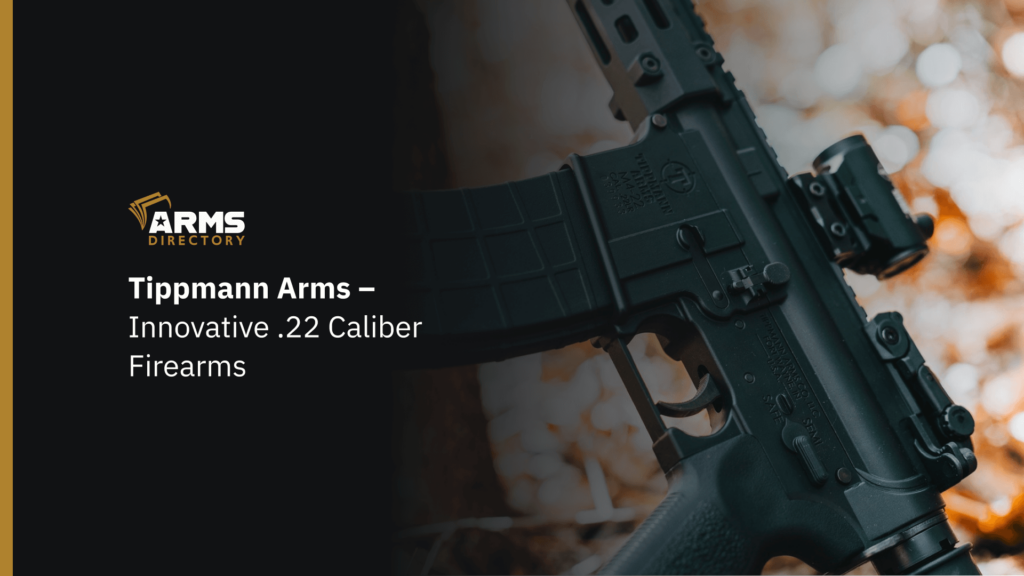 Tippmann Arms – Innovative .22 Caliber Firearms
Innovation and unique design concepts have Tippman Arms on the cutting edge of the firearms industry. Owners of the company, along with design engineers, have listened to customer demands and delivered on the products that match these everyday requirements.
M4-22 Micro Bug Out
M4-22 Micro Elite Bug Out SBR is a fun-to-shoot, semi-automatic, AR-styled rifle chambered in 22 LR. Pioneering features on the Tippmann M4-22, such as the T5 Armbrace, allow the Micro Bug Out to be fired "with or without" the armbrace folded. High-grade upper and lower aluminum (no polymer) receivers, nickel-plated bolt, and parkerized solid steel threaded barrel have the Tippmann Bugout weighing only 4.3 lbs.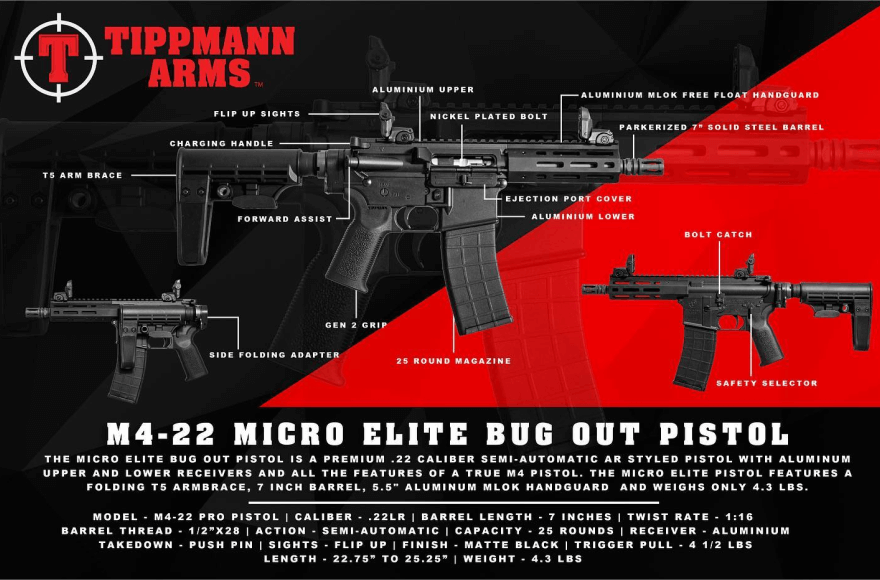 True M4 Features:
11-inch barrel, 9" Aluminum M-Lok Handguard
25 round magazine
Drop-in trigger assemblies
"Bicycle Lock" storage safety
A compact profile allows the Bug Out to fit comfortably in hunting backpacks and satchels. Experts agree the Bug Out is just a blast to shoot for elite competition, hunting, or plinking in the backyard!
Interview With Tippman Arms
Todd from Arms Directory interviews Chris from Tippman Arms. The two industry veterans discuss the company's New Micro Bug Out, along with their speed loader and the Redline Model.
Todd: What is the Micro Bug Out, and what makes it unique?
Chris: The Micro Bug Out is our newest gun. It is similar to our micro pistols but includes a folding adapter, making it perfect as a survival or hiking gun. The folding adapter allows the gun to be easily stored in a backpack.
Todd: How does the gun function without a buffer tube?
Chris: We redesigned the bolt to contain the springs within the gun. This design ensures that our other guns can still be compatible with a regular 5.56×45mm or .223 Remington, and most components fit a mil-standard gun.
Todd: Tell us about the magazines for the Micro Bug Out.
Chris: Our magazines have the same size, look, and feel as a standard AR magazine. They also feature a sliding cover that exposes the number of rounds and lets the user take the tension off while loading.
Todd: How much does the Micro Bug Out cost, and where can people get it?
Chris: The Micro Bug Out costs around $750. It can be purchased at tippmannarms.com, and we have a dealer locator on our website.
Todd: Can you explain your new speed loader and how it works?
Chris: The speed loader is still in the prototype stage, but it allows users to load magazines quickly. Simply dump a box of bullets into the hopper, shake it, and the weight of the bullets will align them properly. Clip in the magazine, and you're loading. It currently works with Black Dog and Smith & Wesson magazines.
Todd: What is the Tippmann Red line, and what sets it apart from the others?
Chris: The Redline is geared towards speed shooters and steel target shooters. It features a fluted barrel, a tandem cross compensator, and a co-branded color scheme. Unlike many other .22 LR AR-style rifles, our products are made of high-grade aluminum rather than polymer.
Todd: What is the threading on the barrels, and how much does the Redline cost?
Chris: The threading is 1/2×28, which is standard for suppressors. The Redline model without the optic is priced around the mid-$700 range.
Tippman Speed Loader
Load your .22 LR magazines in seconds, perfect every time with the Tippman Speed Loader. Made from high-impact polycarbonate, it will not damage the casing or bullet, as other loaders are infamous for with this annoying design flaw.
Simply fill the Speed Loader's hopper with up to 100 rounds of quality .22 LR shells, crank the handle, and your magazine is ready to load.
Compatible Magazines:
M&P® 15-22
Rock River Arms
Black Dog X-Form
Smith & Wesson
The Tippman Speed Loader is perfect for those shooters who fire off several hundred rounds per session. Competitive shooters, small game hunters, and backyard plinkers crank the handle; one plunger pushes down the stack of bullets, and another plunger loads the round.
Tippman M4-22 Redline-Compliant
The Redline is a collaboration between Tippman Arms and Tandemkross, creating an M4-22 in a competition-ready format. The Tippman Arms Redline is a semi-automatic tactical M4, chambered in .22 caliber.
A largely mil-spec AR-compatible rifle, the Redline accepts most AR-15 stocks, hand guards, and sights. Among the many Tippman upgrades are the TK AR-15 Hive Grips, adding to the overall comfort of the Redline. These patented grips are made from impact and vibration dampening material. A removable O ring and sealed bottom provide a water-resistant storage area.
The Redline offers a flat top upper and mil-spec lower assembly cast from premium aluminum alloy and treated with an E-coating finish. The Redline's 16" barrel is made from a solid block of 4150 steel with a threaded muzzle.
The premium Tippman M4-22 Redline has all the looks and feel of a true M4, which could be more accurately described as the carbine version of the M16.
The M4-22 is a blowback-operated AR-15 pattern for the .22 LR. The nickel-plated bolt assembly is supported by a reduced mass buffer and a spring located in the buffer tube.
The design of the Tippman is in the same vein as Smith & Wesson's M&P 22. Tippman's M4-22 replicates the handling and operational features of an AR-15 platform while incorporating designs suitable for the 22 LR.
One of the best features of the Redline is that Tippman offers magazines of 10, 15, and 25 rounds. The design provides the handling of a typical AR-15 with the easy loading of a .22 LR rimfire.
Essential Features of the M4-22 Redline-Compliant:
Red Duracote 16" Fluted Barrel
TK AR15 "Hive Grips" Red/Black
Aluminum upper and lower receivers with nickel-plated bolt
9" composite free float handguard
4 ½ pound trigger pull
Full-length Picatinny Rail
Drop-in trigger assemblies
Ambidextrous sling adapter plate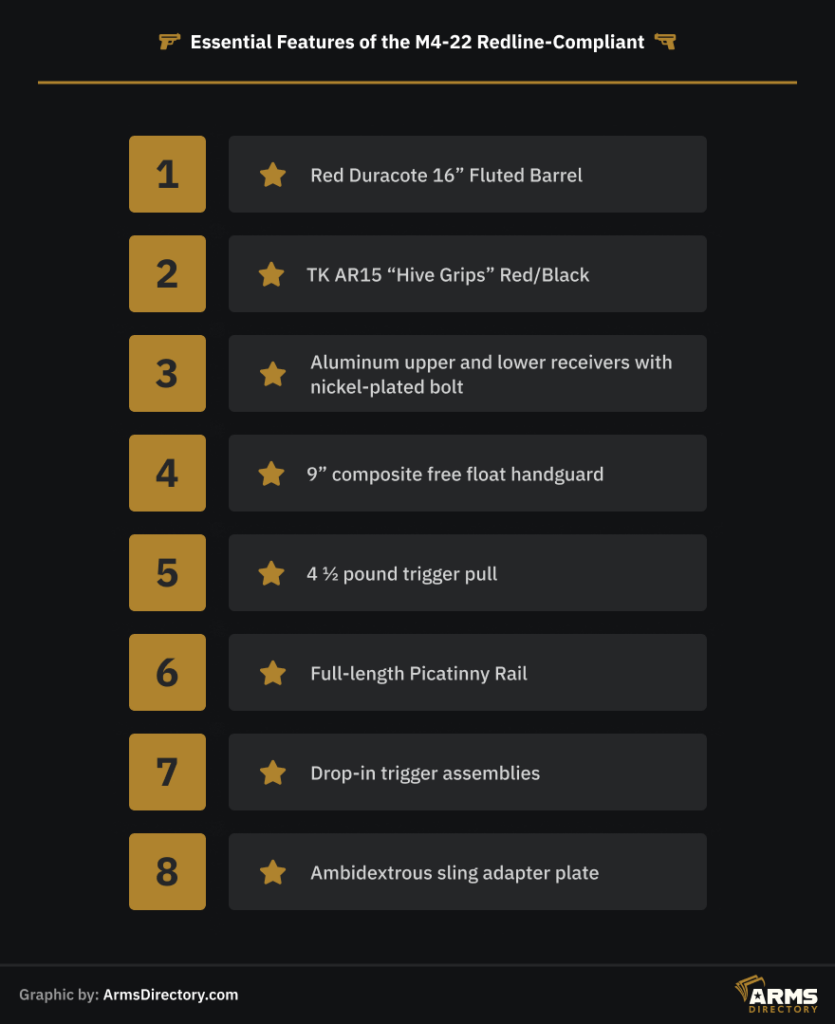 Tippman gives enthusiasts three Redline models, offering different optics to meet the specific needs of the elite shooter.
Each model of the Redline features all the AR components shooters depend on with different optic setups.
M4-22 Redline with Hawk Reflex Sight-Compliant. This M4-22 offers a premium "Wide View" configuration Red Dot with 3 MOA sight and riser.
M4-22 Redline-No Optics. Shooters can choose their optic configuration or decide on no sights to improve accuracy.
M4-22 Redline with Red Dot Hawk Reflex Sight. Red accents highlight the superior nature of this AR-styled semi-automatic with a Wide View 3 MOA sight.
Tippman Arms offers a complete lineup of premium firearms for elite shooters around the world. The company provides enthusiasts with several AR-styled rifles, micro pistols, magazines, bolt carrier groups, and plenty of other essential items.
In Conclusion
Tippmann Arms is committed to providing innovative, high-quality firearms and accessories for the modern shooter. From the compact Micro Bug Out to the Redline's speed shooting capabilities, Tippmann Arms offers products that cater to various shooting enthusiasts.
With their attention to detail, quality materials, and unique features, it's clear that Tippmann Arms is a brand worth watching.