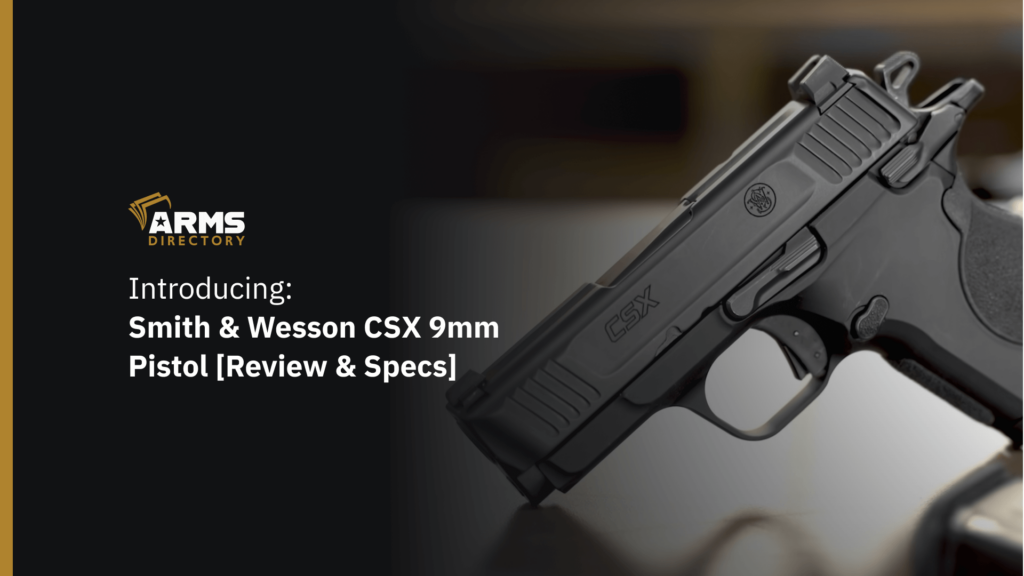 Introducing: Smith & Wesson CSX 9mm Pistol [Review & Specs]
In the world of firearms, innovation and performance are the driving forces behind every evolution. As gun enthusiasts and responsible carriers, we seek a harmonious blend of compact design, formidable firepower, and flawless precision. Smith & Wesson steps onto the stage with their CSX Micro-Compact 9mm Pistol, released in January 2022.
In this review, we delve into the intricate details, superior craftsmanship, and real-world performance of the CSX Micro-Compact, exploring how it stands as a testament to Smith & Wesson's commitment to delivering excellence in every shot. Keep reading as we take aim at dissecting the features, assessing the ergonomics, and uncovering the accuracy that makes the CSX a potential game-changer in the world of concealed-carry firearms.
Smith & Wesson CSX Review
For shooters who appreciate snub-nosed revolvers and micro semi-automatic pistols, the new Smith & Wesson CSX (aka Chief's Special X) Micro-Compact 9mm pistol is sure to please!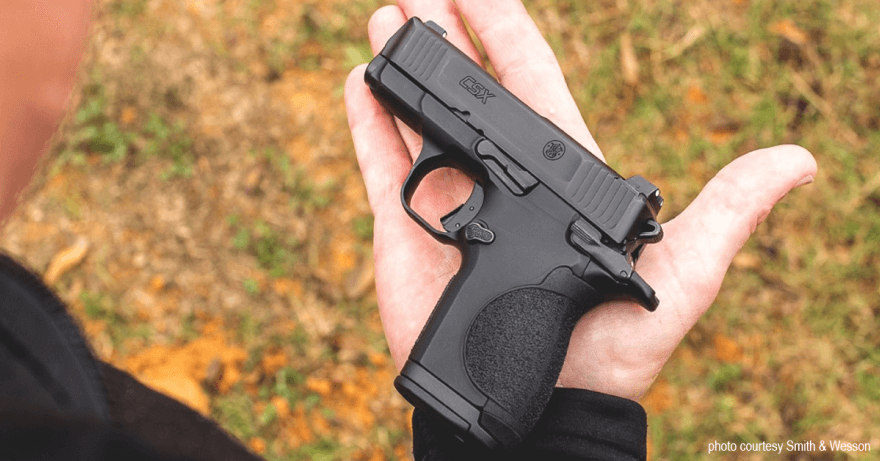 In fact, its design is so elegant, you might not even recognize that it's a Smith & Wesson's until you see the logo – unlike the M&P Shield 9 Plus which has the classic S&W contours. It combines a bit of old-school technology with a lot of new-school technology, the CSX Micro-compact 9mm is quite possibly one of the best production micro 9mm pistols to date.
It is certain to be a very popular pistol among shooters with smaller hands as well as those who value concealability.
Smith & Wesson CSX Specs and Features
Specs :
Caliber: 9mm
Width: 1.12 inches
Length: 6.1 inches
Barrel length: 3.1 inches
Height: 4.6 inches
Weight: 19.5 ounces
Capacity: 12+1
First of all, instead of the all too common polymer frame combined with a steel slide and barrel which has become the standard of most compact and micro pistols these days, the Smith & Wesson CSX features an aluminum frame and magazine ejector with a black Amornite (nitride) finish, and an anodized steel slide and extractor with a steel barrel. In fact, many shooters are referring to it as being reminiscent of the 1911 Colt Commander.
Also, as you would expect from a single action mechanism, the S&W CSX has an ambidextrous safety which is unobtrusive so that while being convenient to operate, it is not uncomfortable when shooting.
Furthermore, unlike many compact and micro-compact pistols the magazine of the CSX can be safely inserted, and a round chambered while the safety is engaged.
As an added safety feature, the S&W CSX's trigger employs a safety lever reminiscent of the Glock series of pistols so even if the pistol's safety is somehow accidentally disengaged, the pistol cannot be fired unless the safety lever on the trigger is depressed first.
Another feature, reminiscent of the Colt Commander, is the interchangeable front and rear polymer grips of different sizes and widths and thus, the S & W CSX is able to accommodate shooters with both large and small hands for a more comfortable grip.
In addition, the polymer grips also have a sandpaper-like finish which provides a firm grip without being so aggressive that it abrades your hands after long shooting sessions.
With an overall weight of just 19.5 oz. and a 3.1 inch barrel, and a height of 4.6 inches and a width of 1.12 inches, the CSX is easily small enough to fit in almost any concealed carry position such as small of back (SOB), appendix carry or even in an ankle holster.
Plus, unlike most pistols this size, it's chambered for 9mm Lugar (Parabellum) rather than .380 Auto – and it's available in your choice of 10+1 with a standard magazine or 12+1 with a slightly extended magazine. It also comes with two extra magazines which should be just enough to take it to the range.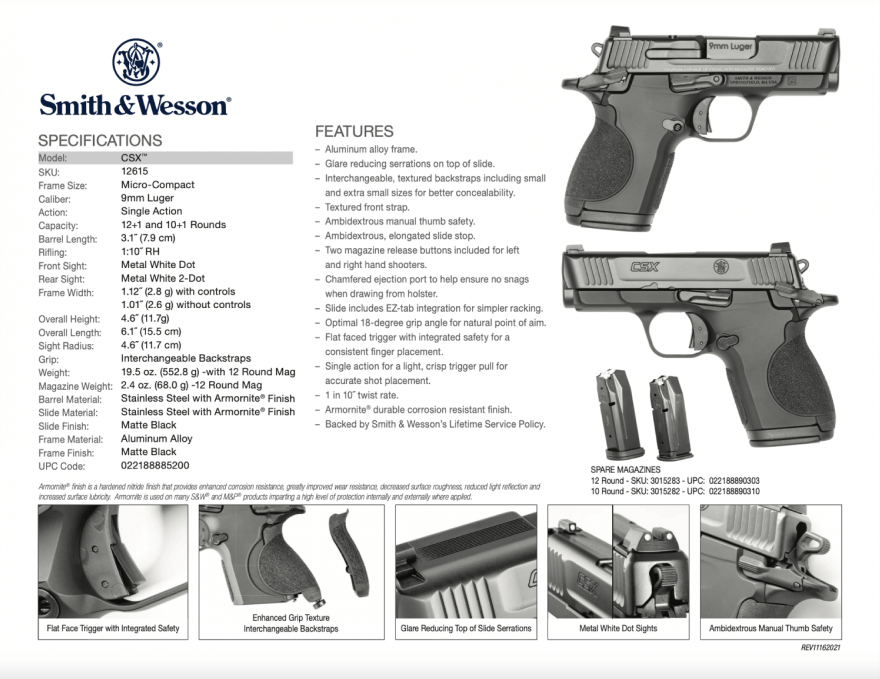 The new Smith and Wesson CSX micro compact 9mm pistol features an aluminum alloy frame, glare reducing serrations on top of slide, interchangeable textured backstraps, ambidextrous manual thumb safety and elongated slide stop, and an impressive 10+1 or 12+1 capacity. Optimal 18 degree grip angle for natural point of aim, EZ tab integration for simpler racking, chamfered ejection port, and a crisp single action trigger make this the ideal concealed carry pistol.

Palmetto State Armory
Of course, such as small pistol can be a bit difficult to control when shooting at the range, but that is probably to be expected from such a lightweight pistol.
In fact, it seems to generate a bit more felt recoil than the M&P Shield Plus which is probably due to the fact that the CSX has an aluminum frame, whereas the Shield Plus has a polymer frame and thus, the polymer frame of the Shield Plus probably absorbs a bit more recoil due to the elasticity of the polymer frame versus the aluminum frame of the CSX.
Yet another fantastic feature of the CSX is its willingness to reliably feed most types of ammunition and fire it with reasonable accuracy.
So, while it may not have the reliability or accuracy of a highly tuned Wilson Combat pistol, for its size and barrel length, it is certainly capable of sending rounds downrange reliably. Plus, it has a drift adjustable 2-dot rear sight and a drift adjustable single-dot front sight.
Summary
So, if you are in the market for a micro-compact 9mm pistol made by a company with a solid reputation for producing high-quality handguns, then the Smith & Wesson CSX is a solid choice and, with an MSRP of just $609.00 for both models, it's a difficult choice to beat.
We hope you liked our Smith & Wesson CSX review, let us know what you think in the comments below and don't forget to visit our Business Directory!