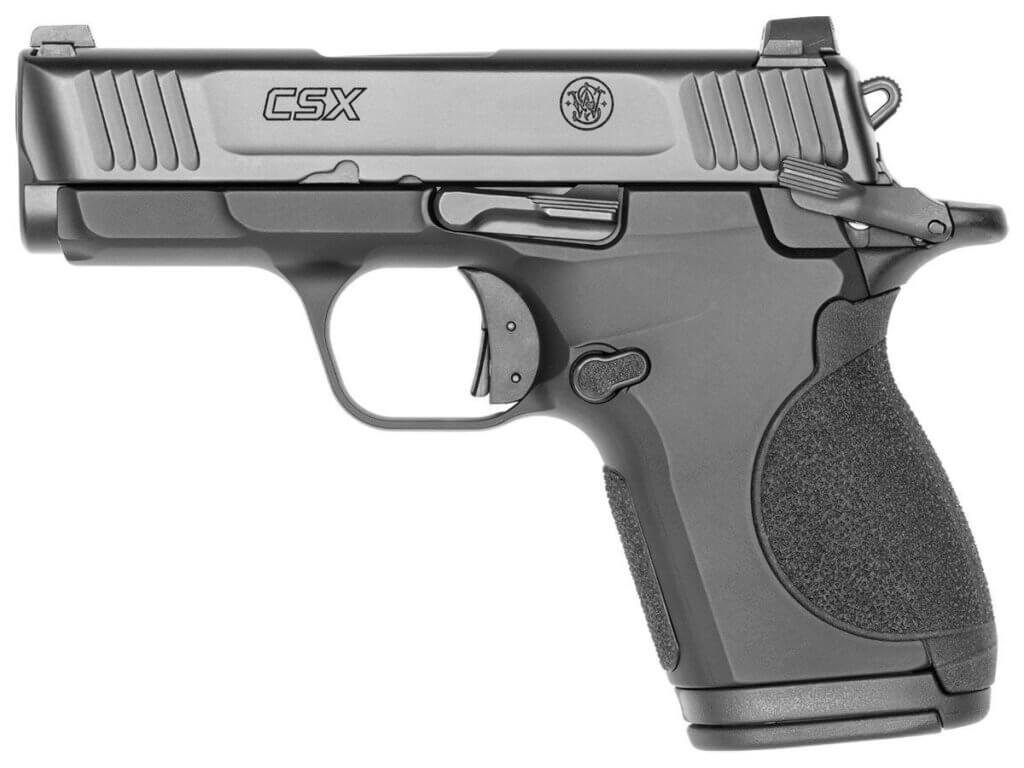 Smith & Wesson Cold- Launches the New CSX Micro-Compact 9mm Pistol
Smith and Wesson recently cold-released a new micro-compact 9mm pistol just prior to SHOT 2022. The image was leaked last week on Reddit in the R/Guns forum, by a former gun store employee. In this competitive segment, everyone tries hard to differentiate their product from the groundbreaking original, the Sig P365. Featuring a metal frame with polymer inserts, the CSX is hammer-fired, SAO reminiscent of the original Colt –> Sig P938 –> Kimber Micro –> Springfield 911 –> But with a twist: Instead of the usual 6-7 round capacity, the new CSX will have 10-12 rounds available, using a proprietary magazine. Due to it being SAO, there is an ambidextrous safety, and a reversible magazine release. As a result of the gun's higher round capacity, it is a little chunkier than the previously mentioned competition. But at 1.12" thick, and just a tick over 19oz, it should still easily fit in the usual places one would normally carry a micro-compact handgun.
The new Smith and Wesson CSX micro compact 9mm pistol features an aluminum alloy frame, glare reducing serrations on top of slide, interchangeable textured backstraps, ambidextrous manual thumb safety and elongated slide stop, and an impressive 10+1 or 12+1 capacity. Optimal 18 degree grip angle for natural point of aim, EZ tab integration for simpler racking, chamfered ejection port, and a crisp single action trigger make this the ideal concealed carry pistol.

Palmetto State Armory
Looking at the available photos, it looks as though S&W worked hard to give the handgun what looks to be a "carry melt" treatment (to use Kimber's vernacular) to smooth out every edge, every corner to ensure it can't snag on anything when being drawn from concealment. Currently, it's being offered with standard 3-dot iron sights, there is no accessory rail and an optics mount is also not yet available – due to the popularity of red dot sights today, it seems likely that one is in this gun's future. I'm looking forward to getting my hands on one for a full test review.
The "Official" release date was January 2nd, but as of yet, Smith and Wesson remains silent — though copies are showing up at retailers, priced at $599.