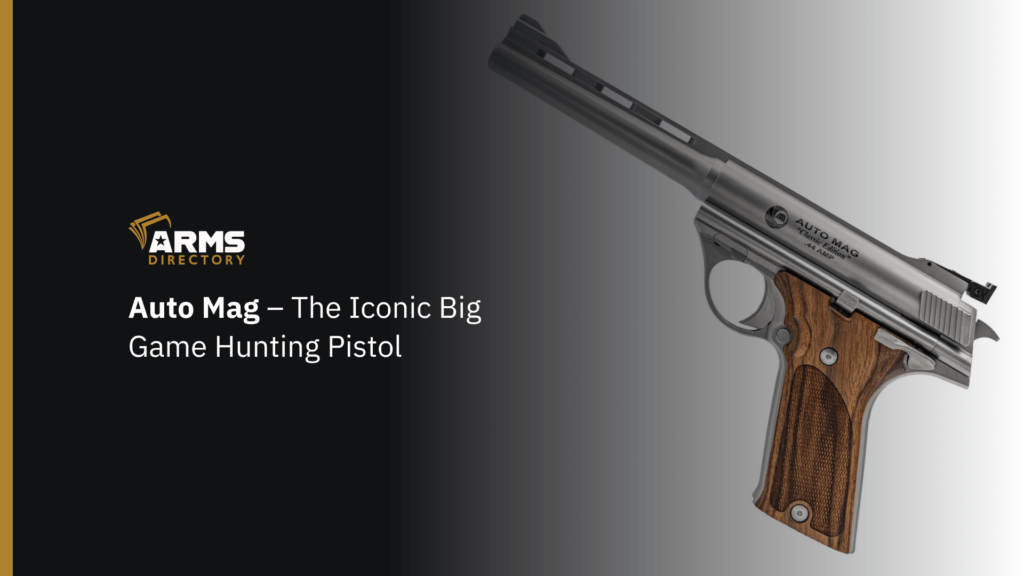 Auto Mag – The Iconic Big Game Hunting Pistol
When thinking of big game hunting, most elite hunters believe only a high-caliber rifle can be effective downrange with the biggest game. Modern-day technology has allowed firearm designers to craft pistols and revolvers with fantastic power. Auto Mag is an example of how gun brands have evolved to meet the needs of competitive shooters and elite hunters.
In 1971, the first Auto Mag pistol was shipped from its factory in California. Early years were not kind to the company; however, the iconic pistol was immortalized by Dirty Harry Calahan (Clint Eastwood) and others on the silver screen, and the company began the long road back.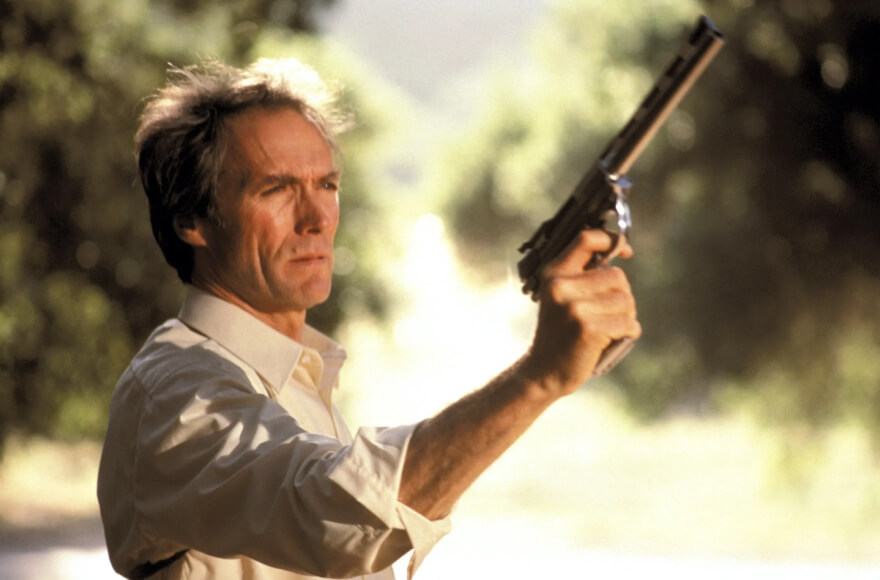 The Auto Mag is a short-recoiled pistol with a rotary bolt and six locking lugs similar in design to the AR-15. A modest-weight, semi-automatic pistol, the Auto Mag gives the shooter the full, thrilling power of a 240-grain, 44-magnum round.
Arms Directory talks with the current owner of Auto Mag, Patrick Henry, about the current state of the company and its iconic pistol.
Arms Directory Talks With Patrick Henry, Owner of Auto Mag
Todd : Can you tell us a little bit about the history of Auto Mag and how it was developed?
Patrick : This gun was developed by Harry Sanford in the early seventies. He had an idea to make a semi-automatic big game hunting pistol and hired a gunsmith named Matt Scara. It took them several years to come out with the first prototype.
Todd : Where did Auto Mag gain its popularity?
Patrick : Auto Mag became popular after appearing in the 1983 film "Sudden Impact," part of the Dirty Harry series. It also appeared in "Beverly Hills Cop Two" and "Malone" with Burt Reynolds. Additionally, it was featured in a novel called "The Executioner" with Mac Bolan, which sold over 200 million copies. His pet pistol was called "Big Thunder," which was an Auto Mag.
Todd : What cartridge does it use?
Patrick : Auto Mag uses the .44 AMP (Automatic Pistol) cartridge, which is a trimmed .308 case with a .44 Magnum bullet on it.
Todd : Are there other calibers available for Auto Mag?
Patrick : Originally, Auto Mag was made in .45 Win Mag, .44 Auto Mag, .41 Auto Mag, .357 Auto Mag, and .30 Cal Auto Mag. All of these were just necked down .308 cases with the respective bullets, and they cycled very reliably. The .357 was a favorite of almost everybody.
Todd : Can you share your journey with Auto Mag since purchasing the company?
Patrick : I purchased the company in 2015. Initially, I thought I could build 400 guns with the remaining frames and barrels and move on to the next project. However, I soon realized there were several issues that needed to be addressed. We made over 50 improvements to the gun, including solving firing out of battery, enhancing reliability, and making user-friendly options.
Todd : What are the different models and barrel lengths available?
Patrick : The original Auto Mag was only shipped in a 6.5-inch barrel length in satin finish. However, the movie gun Clint Eastwood used had an 8.5-inch high polish barrel. We also offer a black version called "The Raven" with a 6-inch barrel.
Todd : How can someone purchase an Auto Mag?
Patrick : You can order directly from our website at automag.com.
Todd : What is the price range for Auto Mag pistols?
Patrick : The base model is around $3,500, the top end is $4,200, and the Raven is $3,800.
Todd : Where can customers find ammunition for the .44 AMP?
Patrick : SBR makes the loaded ammunition, Starline makes the cartridge cases for reloaders, and RCBS makes reloading dies. We don't sell ammunition directly, but we can direct you to SBR.
The Auto Mag pistol has an undeniably rich history and a unique, iconic design that has captured the imagination of gun enthusiasts for decades. With continued improvements and dedication to quality, Patrick and his team at Auto Mag are ensuring that this legendary firearm continues to make its mark on the industry.
Auto Mags Made to Order
Auto Mag pistols are made to order with a minimum of 180-day lead time for delivery. There are currently two models of the classic Auto Mag for purchase chambered in 44 AMP.
1. Model 180-D Semi-Automatic with either a 6.5-inch or 8.5-inch vent-ribbed barrel, chambered in 44 AMP, is a Classic pistol for the purest hunter in all of us. The Auto Mag Pistol's reputation has made it a popular choice for big-game hunting and competition worldwide. This beast of a pistol was designed for a 240-grain high-velocity 44 AMP cartridge. The Classic 6.5-inch Auto Mag can be purchased at the list price of $3995.00. The 8.5-inch Classic is available for $4395.00.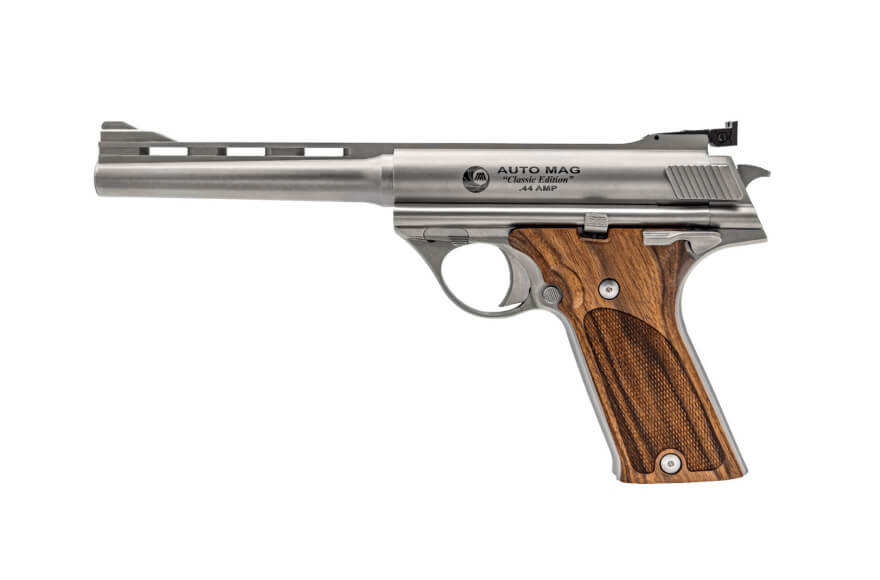 2. The Classic Edition RAVEN with a 6.5-inch barrel is available now. The Model 180-D features a stunning black finish with checkered Hogue wooden grips chambered in 44 AMP.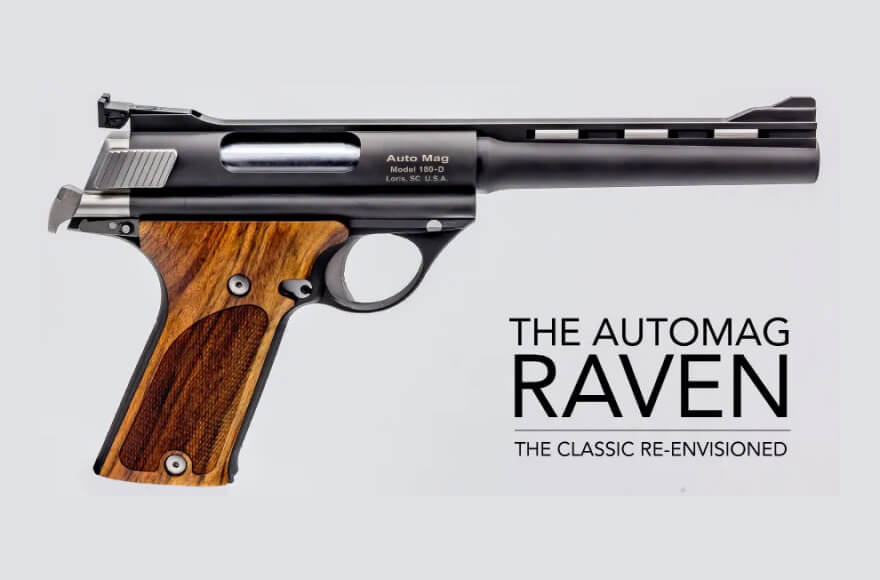 The standard and RAVEN editions of the Auto Mag are shipped in a custom presentation case and two magazines. Making the entire package very impressive.
Over 40 improvements to the original 44 RAVEN Auto Mag resulted in a safer and more accurate pistol. The list price on the 6.5-inch RAVEN Auto Mag is $3895.00.
44 AMP cartridges for the Auto Mag are available from independent gun dealers. Initially, the Auto Mag was built to chamber the 45 Win Mag, 44 Auto Mag, 41 Auto Mag, 357 Auto Mag and the 30 cal. Auto Mag. Each round is a necked down 308 cartridge with their respective bullets. Cartridges cycle through the Auto Mag with ease.
SBR Ammunition supplies the cartridges for the Auto Mag, and there are plenty of options for the reloaders. Starline Brass supplies the cases for reloading, and RCBS makes the reloading dies. Several outlets offer to pre-order an Auto Mag for enthusiasts and hunters, or they can go directly to the source.
Final Word
If you are a fan of large, powerful revolvers and the foundation of rugged cops movies, then you will love the Auto Mag. They offer stunning good looks, rugged styling, even from the holster, and enduring value. I have always appreciated the history of a weapon, either in peacetime or war.
The Auto Mag's rebirth came in the 4th installment of the Dirty Harry movies, with Patrick Henry's proclamation, "his intrepid team of engineers took on the challenge to bringing the Auto Mag into the 21st century."