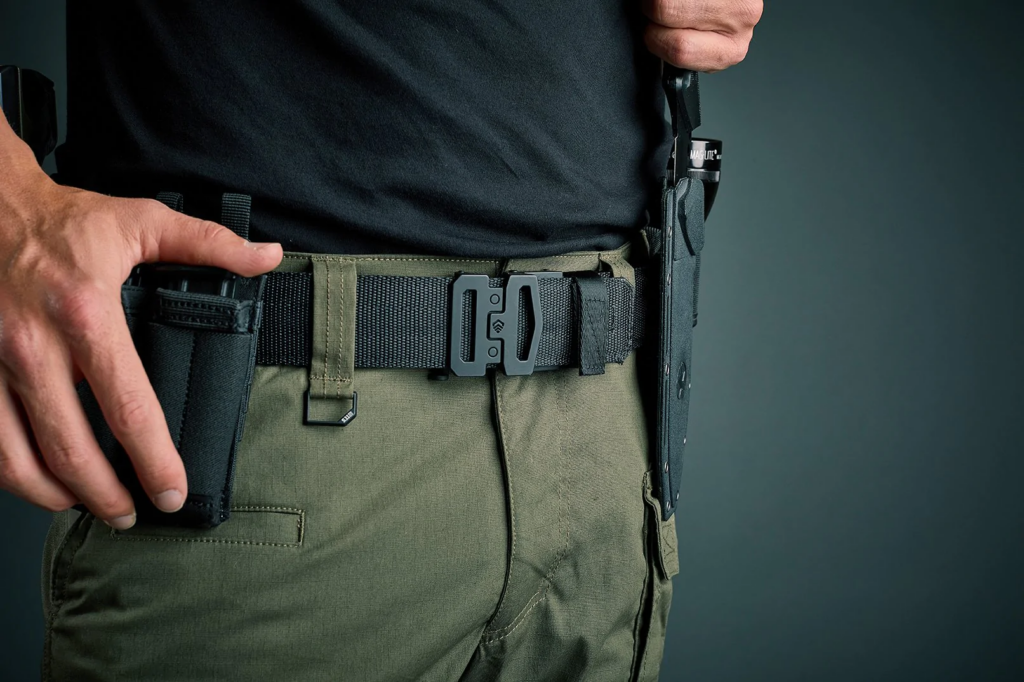 Brand Spotlight: Kore Essentials EDC Gun Belt – The Perfect Fit for Your Firearm
Today's Brand Spotlight focuses on Kore Essentials and their EDC gun belt. We sat down with Travis Clark to learn more about belt's unique features, pricing, and how it can benefit you in your everyday life. Watch the video here or read the transcription below.
Todd: What makes the Kore Essentials EDC gun belt different from other belts?
Travis: It has a unique ratchet and track system, which sets our belt apart. It offers 40 sizing positions with quarter-inch increments of adjustability, ensuring a perfectly fitting belt for any situation, whether you're carrying a firearm or not.
Todd: How does the ratchet operate, and how do you adjust the belt?
Travis: First, cut the belt to size, add about four inches, and make sure it works with your holster on. Then, once it's on your waist, it will be perfectly sized. The ratchet allows you to make micro-adjustments for ultimate comfort and fit.
Todd: How does the micro-adjustment feature help with different types of pants and carrying situations?
Travis: The micro-adjustment allows for a comfortable fit, no matter the type of pants or whether you're tucking in your shirt or leaving it untucked. This feature ensures versatility across various situations and pant sizes.
Todd: What benefits does the rigidity of the Kore Essentials EDC gun belt provide?
Travis: The uncrushable rigid design ensures that your firearm stays in place without sagging or slack. This guarantees a clean release when drawing your firearm, which is crucial for effective self-defense.
Todd: Are there different styles and configurations available?
Travis: Yes, we offer a variety of styles to cater to different tastes and situations, from tactical to classy. We aim to provide a gun belt that doesn't look like a typical one.
Todd: What are some of the different color options available?
Travis: We offer a variety of colors, including black camo, which is very popular. We worked with Multi-Cam to provide this unique pattern to our customers.
Todd: Where can I purchase the Kore Essentials EDC gun belt, and what is the price range?
Travis: You can find our full catalog on KoreEssentials.com. Our belts are priced at $59.95, making them accessible to everyone. Investing in a high-quality belt is essential to consider the value of your firearm and holster.
Travis from Kore Essentials highlighted the unique features and benefits of their EDC gun belt. With a ratchet and track system, various styles and configurations, and a focus on comfort and fit, the Kore Essentials EDC gun belt is a worthy investment for anyone carrying a firearm or if you're simply looking for a good quality belt.