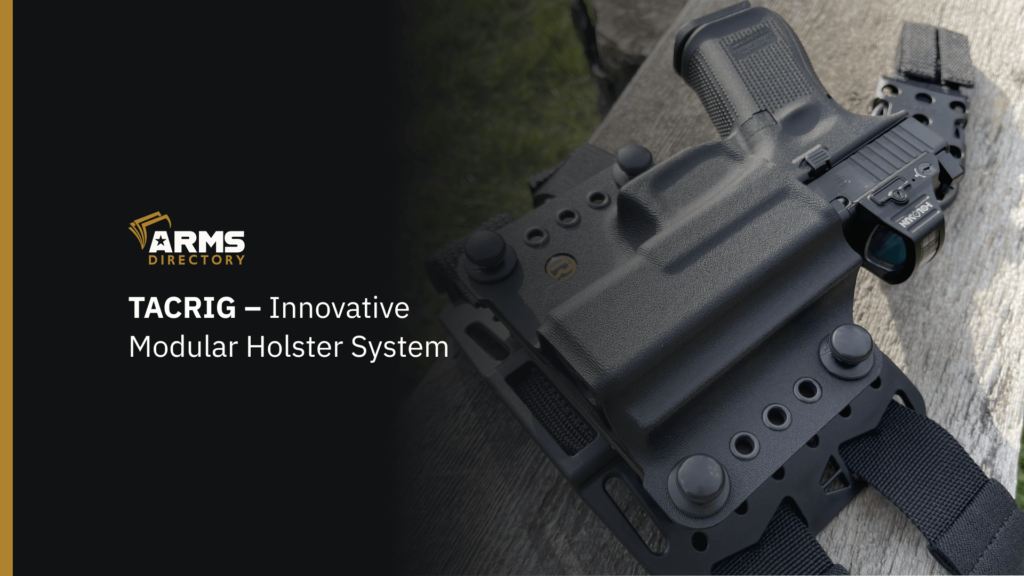 TACRIG – Innovative Modular Holster System
Modularity is a term that has been bandied about for years in the firearms industry. Plenty of companies have attempted to bring the ultimate modular tactical weapon system to the market, and just as many applications and technologies have failed to impress.
Excellent modularity can be applied to weapons such as the AR15 or the Sig Sauer P320, and only a few tactical holstering systems can be termed 'Excellent'.
TACRIG has developed modular holster hardware, which rethinks how military, and law enforcement personnel deploy their holsters in the line of duty.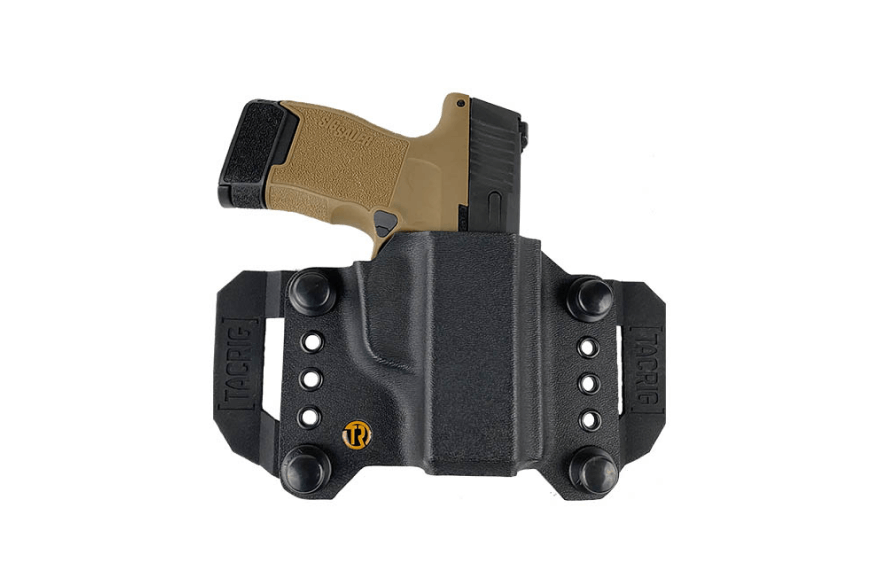 Until TACRIG, law enforcement personnel typically needed to change holsters as often as they did their preferred service weapon.
Related Post: SIG SAUER P229 Pro: Review & Specs – Arms Directory
Interview With Tim Silva from TACRIG
Arms Directory interviews Tim Silva from TACRIG and gives the lowdown on these unique and innovative holstering systems.
Todd: What is the TACRIG modular holster system?
Tim: It's a versatile and adaptable system designed to fit various handguns. It allows users to quickly swap their firearms on the fly and offers both in-waistband and out-of-waistband carry options with just one holster.
Todd: What decisions do you have to make to get started with the TACRIG system?
Tim: You need to know the guns you want to carry, as the shells are individually molded for each firearm. As your firearm collection grows, you can purchase corresponding shells and attach them to the same rig.
Todd: Can you use the TACRIG system to store your firearm?
Tim: We offer hard surface mounts, magnetic mounts, and other storage options that allow you to attach your firearm, still in the shell, to your safe door or other hard surfaces for secure storage.
Todd: How many different types of guns do you currently have holsters for?
Tim: We currently support over 200 guns, with all molds developed in-house using 3D scans of real firearms to ensure perfect retention and fit.
Todd: What do these products cost?
Tim: The in-waistband rig, which includes a single shell and the carry setup, costs $149. The combo option for both the in-waistband and out-of-waistband is available for an additional $20.
Todd: Is there any difference in price for colors or materials?
Tim: There is a slight upcharge for the carbon fiber print, but other than that, the prices are the same.
Todd: How can someone purchase a TACRIG system?
Tim: You can visit TACRIG.com, select your gun's make and model from the dropdown menus, and customize your order with options such as left or right hand, shell color, and more.
Todd: What if someone's gun is not on your list?
Tim: They can contact us via email, and the team will put them in the queue for development on new firearms as they become available. #
The TACRIG system starts with a breathable backer made from extremely tough Boltaron Thermoplastic. The Boltaron backer is the core component of the TACRIG modular holster.
Within the backer is a universal mounting system comprised of four quick connect/disconnect pins. Holster shells are 3D scanned from the actual pistol model (not from a blue gun), which creates built-in retention to hold the weapon steady in all tactical situations – accurate to a thousandth of an inch.
When the shooter is ready to move to another pistol or revolver, the shooter simply attaches a new shell to the backer rather than purchasing an entirely new holster.
Shells attached to the backer can be switched out on the fly without any tools required. The TACRIG holstering system is a durable and unbreakable platform ready for the future.
TACRIG's modularity makes the entire system reliable for any weapon and situation, including storage. The unique, safety-first platform allows shooters to integrate and safely move their weapons wherever they need.
TACRIG, Storing Your Weapon
TACRIG shells are a vital component of the system. Holster-related accidents happen when the shooter draws and reholsters the weapon. Boltaron shells also restrict access to the trigger while the weapon is holstered.
The multi-platform, modular shells are perfect for IWB and OWB carry scenarios. TACRIG holsters provide full access to the weapon's grip for quick access.
Another unique feature of the TACRIG system is its ability to store holster shells on doors, steel, and wooden surfaces, giving the shooter instant access to their weapon.
Precision Retention Shells
TACRIG shells are precision built for each weapon, making the system unique to the industry. At present, there are nearly 200 individual shell models for purchase.
TACRIG engineers use 3D scanning to make a precise holster for each weapon. A 3D scanner takes multiple shots of the weapon and then is fused into a 3D model. This technology creates an exact copy of the weapon.
Engineers then make subtle changes to the model to accept additional components such as optics, suppressors, and other add-ons.
The cost to the tactical personnel using this advanced technology is exceptionally reasonable.
TACRIGs Statement of Quality
TACRIG's modular holster system offers a practical and adaptable solution for firearm owners seeking versatility and convenience in carrying their guns. With a wide range of supported firearms and the ability to switch between carrying options, TACRIG is revolutionizing how people carry and store their handguns. Visit TACRIG.com to learn more and order your customized system.
TACRIG's greatest strength is its ability to provide an unbreakable core while giving the shooter flexibility in choosing their best holster setup. Law enforcement's only option for years was the same old leather or Kydex holster. Every time the officer needed to make a weapon change, they had to purchase a new holstering setup.
TACRIG has revolutionized the way law enforcement personnel mount and deploy their weapons. TACRIG shells also come in different color options and are fit for compensators, optics, and threaded barrels. Contact the company if your firearm is not currently in their printed-shell portfolio.
TACRIG IWB and OWB Holster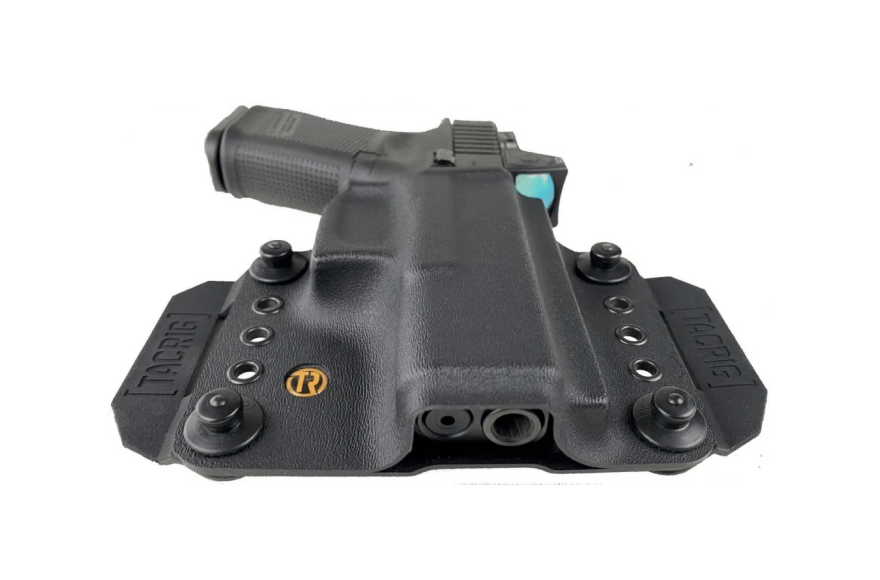 Flex OWB Package is a tool-free holster that allows the officer to switch weapons in seconds. The rig sits high and tight against the body for good concealment. The Flex package includes the shell of your choice and a belt loop backing core.
Flex IWB Holster Strongside. The IWB package is the core of the TACRIG holstering system. Excellent fit and quality allow the you to change you weapon in seconds. The IWB package includes the hard shell holster and backing.
Related Post: Brand Spotlight: UM Tactical – Innovative Holsters and Muzzle Brakes – ArmsDirectory
Final Words
TACRIG has created a holstering system that adds to the effectiveness of anyone who regularly carries.
Often, companies offer tactical methods and systems that last for maybe a few months and then fall into the 'never use again' basket, costing time and a great deal of money.
Buying into the TACRIG method of holstering will create an efficient way to save money and increase your effectiveness in all tactical situations.