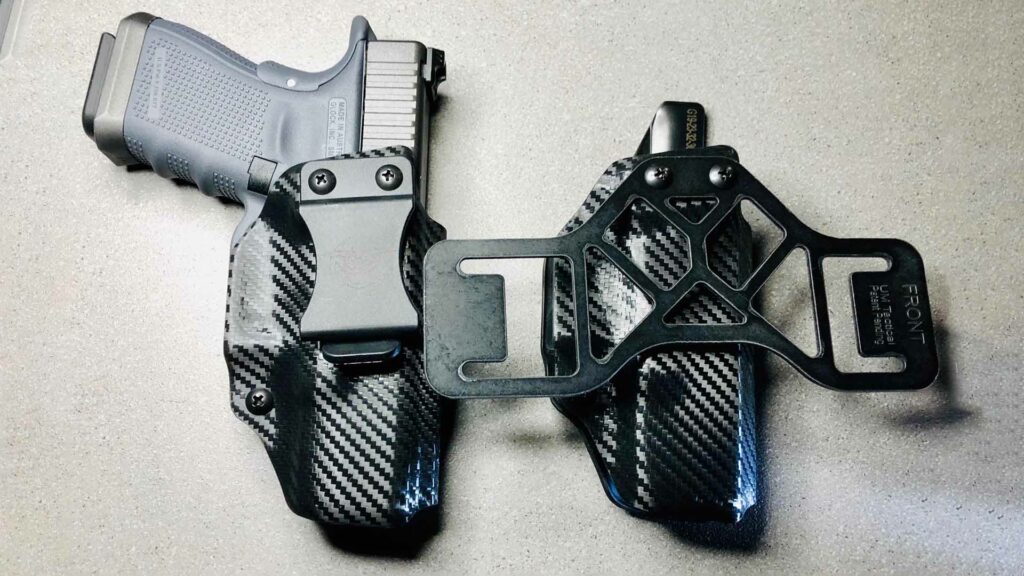 Brand Spotlight: UM Tactical – Innovative Holsters and Muzzle Brakes
In today's Brand Spotlight, we discuss the innovative holsters and muzzle brakes from UM Tactical with Brian Wilson. He shares valuable information about their unique designs and the benefits they can offer to firearm enthusiasts.
UM Tactical has innovative designs and unique benefits to both their Qualifier hybrid holster and Rage adjustable muzzle brake. With great features and a focus on versatility, these products are a solid addition to any firearm enthusiast's collection. Watch the video here or read the transcript below.
Todd: What is the name of this specific holster?
Brian: This holster is called the Qualifier Holster.
Todd: Tell us about your unique holster designs.
Brian: This is our Qualifier Holster. It's different than other holsters because it can be converted into an OWB holster. We call it a hybrid, as it can function as both an inside and outside the waistband holster using our Qualifier Strap.
Todd: How does the qualifier strap work?
Brian: You remove the screws, pull the clip off, and directly replace it with the Qualifier Strap. Then, it functions like a pancake holster but with plastic instead of leather.
Todd: What is the material used for these holsters?
Brian: We use a hybrid plastic called Boltaron, which was engineered specifically for holsters. This material offers flexibility while retaining durability.
Todd: Are these holsters available for different types of guns?
Brian: Yes, we manufacture a wide range of molds for various gun models, including Taurus, Glock, Sig, and more. We have the capacity to produce about 10,000 units a month for this style of holster.
Todd: How much do these holsters cost and where can they be purchased?
Brian: The holsters retail for $59.95 on our website and can also be found on sites like Palmetto State Armory. Our holsters are often available at your favorite firearm store as well.
Todd: You also manufacture an innovative muzzle brake. Can you tell us more about that?
Brian: Our Rage Adjustable Muzzle Brake is a modular system that comes with multiple port washers. The number of washers varies depending on the caliber of the firearm. But, each of these washers displaces the gas differently, and the ports can be adjusted for different rotational angles.
Todd: What is the retail price for the Rage Adjustable Muzzle Brake?
Brian: The muzzle brake retails for $160. Considering it offers 180 different combinations, it's an excellent value for the price.