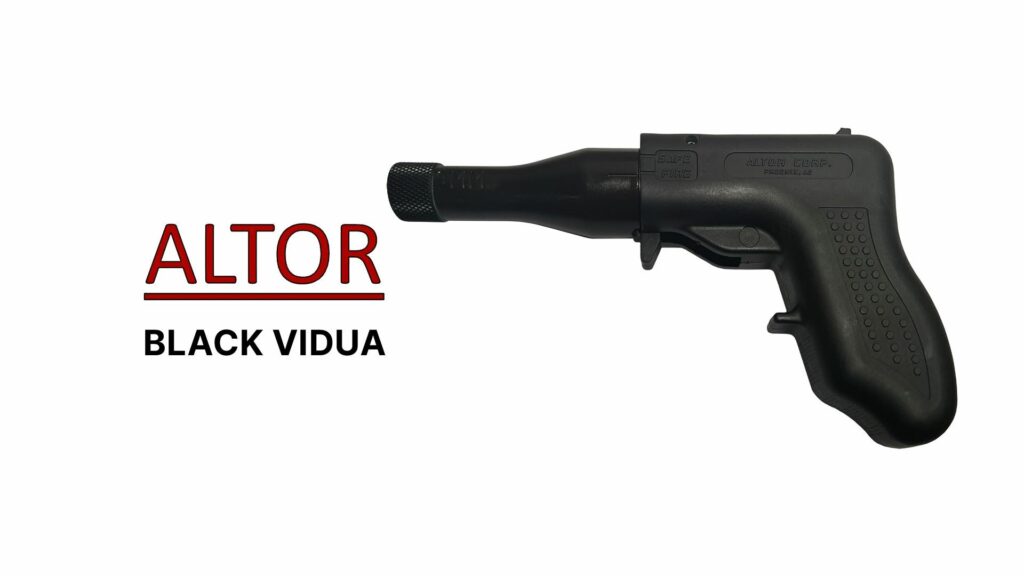 Giveaway: The Altor Black Vidua Pistol
Are you looking for the ultimate covert self-defense weapon? Allow us to introduce you to a firearm that sets the new standard in simplicity, durability, and stealth: the Altor Black Vidua Pistol. During the month of July, we're giving you the chance to win this limited-edition Altor Pistol.
The Unbreakable Altor Pistol
Produced by the innovative ALTOR Corporation, the Altor Pistol redefines what a concealed carry firearm can be with its simplicity. It's an impressive single-shot weapon capable of firing 9MM Luger or .380 rounds when fitted with an interchangeable barrel. This compact weapon offers an unmatched blend of simplicity and resilience.
It's constructed with only six components, maintaining a minimalist design. Each metal part is made from stainless steel, while the polymer components are crafted from high-durability Nylon 6. Those combined make the Altor Pistol virtually indestructible.
The Black Vidua: Elevated Stealth and Durability
Now meet the Black Vidua (Black Widow), an all-black special edition of the Altor Pistol. It features a threaded barrel treated with Black Nitride, giving it a sleek, dark aesthetic that's more than just visually appealing. This treatment enhances the firearm's corrosion resistance, surpassing even that of the original stainless-steel barrel.
The Black Vidua also features a threaded barrel for you to easily attach your favorite suppressor. With that, the Black Vidua transforms into the quietest covert weapon ever developed. With no moving parts to rack or rotate, this firearm is silent, adding to its stealth operation.
The Ultimate Covert Weapon for Modern Times
The Altor Black Vidua Pistol echoes the spirit of two covert weapons from the past: the WWII Liberator and the CIA Deer Gun of the Vietnam War. Yet, the Altor outshines both in terms of performance and reliability.
The Navy SEALS' "Hushpuppy," a modified Smith & Wesson Model 39 pistol with a suppressor, was a revered quiet covert weapon during the Vietnam War. The Altor Pistol Black Vidua weighs in at a mere 10.5 oz. It provides an even more silent, lighter, and improved modern version of the Hushpuppy.
Grab Yours Today
Available at an MSRP of $179.00, the Altor Black Vidua has very limited availability. Visit GunBroker.com to place your order today.
The Black Vidua is the ultimate covert weapon with durability and simplicity. This isn't just a gun—it's a testament to the power of innovation in self-defense. Enter our giveaway now for your chance to win the Altor Black Vidua Pistol.