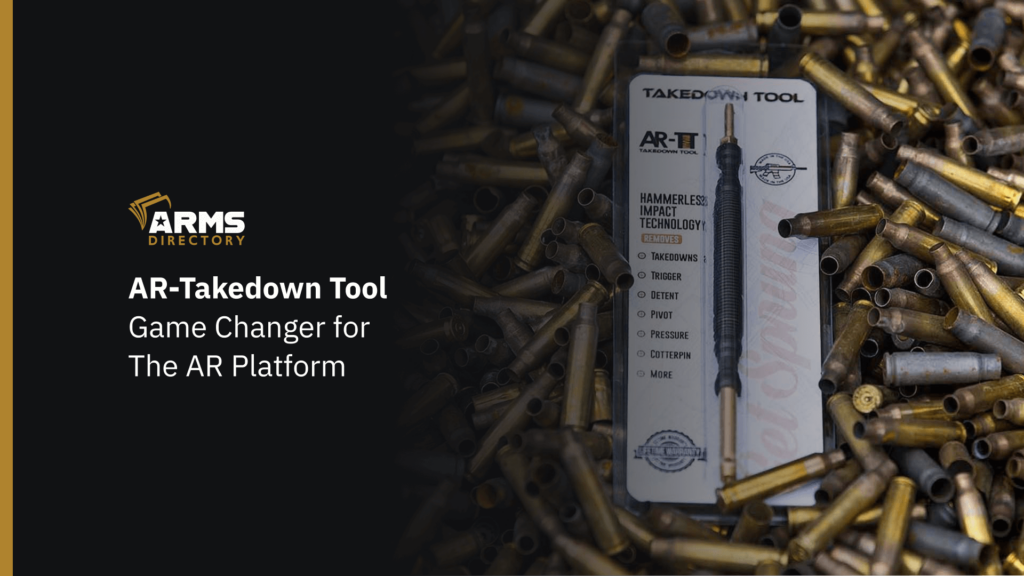 AR-Takedown Tool – Game Changer for The AR Platform
1 in 20 American adults own a piece of firearm history – the AR-15, making it the best-selling rifle in the United States by far. Each year, AR-15 style weapons take center stage at the most prestigious hunting, shooting, and competitive shooting events across the globe. Ardent followers of the AR-15 say the rifle stands for freedom and ultimate personal safety.
When an AR-15 shooter heads to the range, they typically carry at least five tools every session. Hammerless Impact Technology advancements such as the AR Takedown Tool let shooters leave home without hammers, mallets, pivot pin tools, roll pin punches, and other assorted tools.
AR-15 & The AR Takedown Tool
The ecosystem for the AR-15 shooting platform is enormous, including upgraded uppers, lowers, handguards, triggers, brakes, and much more. Every nut, bolt, and screw can be swapped out to customize the look and feel of your AR-15, with dozens of quality products coming to market every month.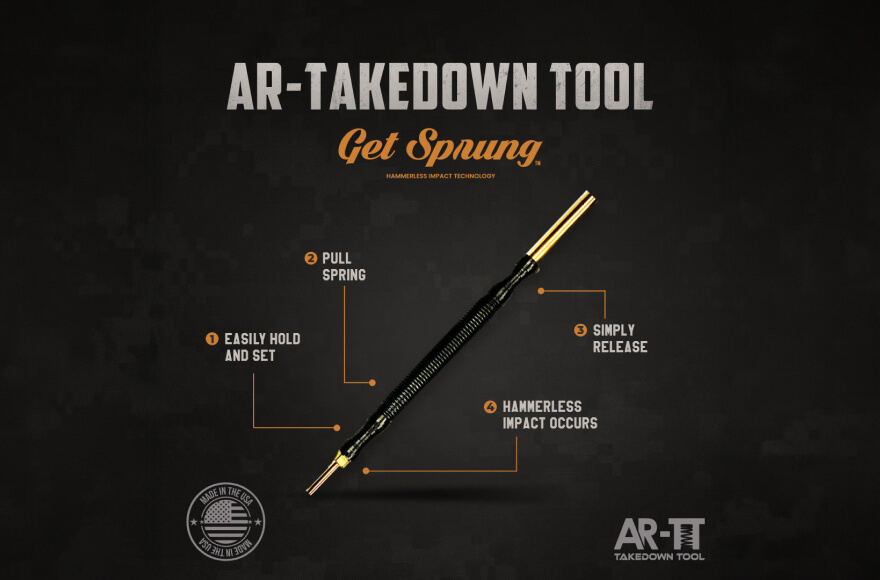 Search online for "What tools do you need for the AR?" and an uncountable number of clamps, wrenches, mallets, screwdrivers, and sets of every type emerge.
Very few technologies have the revolutionizing effect of the patented AR Takedown Tool. This AR-15 tool can completely field strip the firearm, removing all pins and springs without scratching the firearm.
Todd Feltman of Arms Directory interviews Jonathan Clausen, creator of the AR Takedown Tool
Watch the interview with Jonathan or read through our Q&A with him below:
Todd: What is the AR Takedown Tool?
Jonathan: It's an all-in-one takedown tool for AR platform firearms. It replaces the need for multiple hand tools like roll pin punches, mallets, and tweezers. The tool simplifies the maintenance process, making it more convenient and efficient for users.
Todd: What inspired you to create the AR Takedown Tool?
Jonathan: After a frustrating experience with a traditional hand tool set and damaging my firearm, I realized there had to be a better solution. So, I went to the drawing board, and after many prototypes, I came up with the AR Takedown Tool.
Тodd: What is the tool made of?
Jonathan: The AR Takedown Tool is made of 100% USA Steel and USA Brass, ensuring it won't damage your firearm.
Hammerless Impact Technology plays a significant role in how this ingenious device works. The AR Takedown Tool which incorporates hammerless impact technology, is the only full-implement product on the market allowing a shooter to completely fieldstrip and disassemble the AR in less than 20 seconds. The AR-TT removes top pins, trigger, detent, cotter pins, buffer tube, and springs.
Todd: How does the AR Takedown Tool work?
Jonathan: The tool uses hammerless impact technology, which provides over 9,000 PSI of force. It can remove every single pin on the AR platform, including the AR takedown pins, trigger pins, and pivot pins. The tool also has a concave cylinder that helps remove the buffer tube and spring.
How Does the AR Takedown Tool Work?
AR-15 innovation, technology, and vision lead to game-changing products and services for the shooter. The AR Takedown Tool is primarily a field solution without carrying a heavy bag or toolbox. There are many times when components need to be changed in the field in favor of better efficiencies and performance in shooting sequences.
The simple analogy for hammerless impact technology is pulling back a rubber band and letting it snap back into place. The patented design of the AR Takedown Tool works on the principle of "mass times acceleration = power."
The unique and patented design of the AR-TT allows a user to pull back on the spring and release up to 9000 psi, producing more precise power than a hammer and the power is generated in spaces that are tight and difficult to work on.
The AR Takedown Tool features a black oxide finish, creating an attractive appearance while making the tool corrosion-resistant and extremely durable.
Black oxide is an immersion technique, protecting all external and internal surfaces. For added hardness and durability, the metal of the AR-TT undergoes specialized heat treating.
The Takedown features a user-friendly design incorporating clearly marked mechanisms to make field stripping any AR platform quick and easy.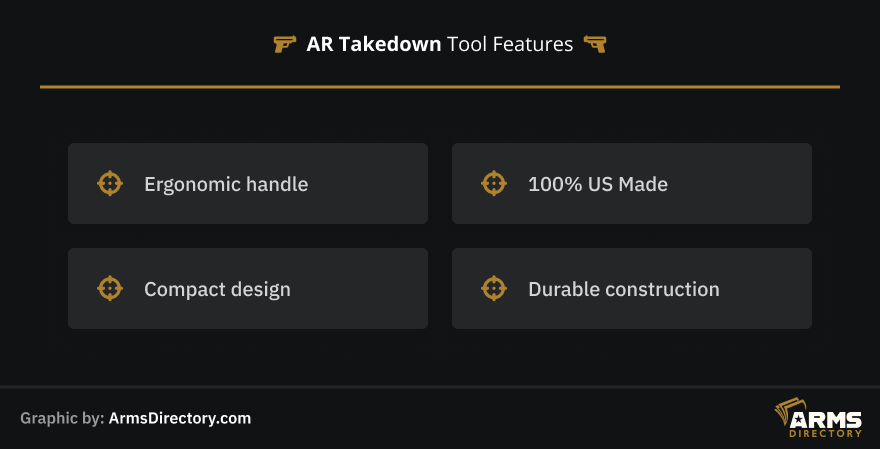 The ergonomic handle offers a comfortable grip, which helps with smooth assembly and reassembly. Working in tight spaces and the field under adverse conditions requires a tool such as the AR-TT that does the job quickly and without damaging the AR.
A compact design makes the AR-TT easy to carry in the truck or field. The compact size makes the AR-TT a must-have accessory for law enforcement and military personnel. Any shooter who frequently breaks down their AR platform for cleaning and maintenance needs the AR-TT.
The AR-TT promotes proper maintenance of your AR-15, which enhances firearm safety. The Takedown enables the shooter to clean the bolt carrier group, barrel, and buffer tube in a timely manner and thoroughly. For complete firearm efficiency, a tool that prevents malfunctions and extends the life of the AR-15 is required.
Durable construction using advanced materials and design ensures the AR Takedown Tool can meet the rigorous demands of any shooter.
Gunsmiths are not limited to the AR platform when needing an innovative tool to break down their firearm. The AR-TT works incredibly well installing, cleaning, and performing preventive maintenance on various pistols and rifles, including SIG Sauer, Glock, Colt, Browning, and more.
Takedown Tool 5-Piece Gun Tool Kit
The Takedown Kit has ingenious roll pin starters for gas blocks, bolt release, and trigger pins. Built-in brass and steel punches break down pistol uppers, bolts, AR uppers, lowers, and more.
The Takedown Kit comes with a bottle of BOAR gun cleaning solvent. Spray your AR with this BOAR solvent and eliminate grime and built-up grease. BOAR is an organic solvent made in America.
Customer Recommendations
"I have been using this tool since I bought it. Absolutely worth it plus it's 100% made in the USA."
Kilian
"This is the most innovative design for an AR-15 since the AR-15 came out. It works on my AR-15 and AR-10 flawlessly. Thank you for a timely delivery and cool product. I'll definitely be buying more for my tactical group. Thanks."
Gun Nutt
"GREAT TOOL! I just received mine today! Much higher quality than I thought. Most things nowadays aren't made to the same standards as they used to be. This tool is the exception. Thanks."
Nate W
Read more customer feedback at: https://www.artakedowntool.com/
How Much Does The AR Takedown Tool Cost?
AR-TT is quickly gaining rave reviews from competitive shooters and elite hunters around the globe. The tool's innovative design and solid construction make it a must-have accessory for gunsmith benches everywhere.
Todd: Where can people buy the AR Takedown Tool?
Jonathan: It's available on the official website at ARtakedowntool.com. It's also being distributed by retailers such as Daniel Defense, LWRC, Brownells, HK, and Granger.
Todd: How much does it cost?
Jonathan: The retail price is $34.99 with free shipping.
A single tool that generates over 9000psi of force, the size of a fountain pen, replaces many older tools that have been used for decades. The AR Takedown Tool is a game changer for shooters to keep their AR-15 tuned and ready for action anywhere.
For AR TAKEDOWN and 73k+ more businesses, check out our business directory. See if your business is already listed, and claim your free profile today!