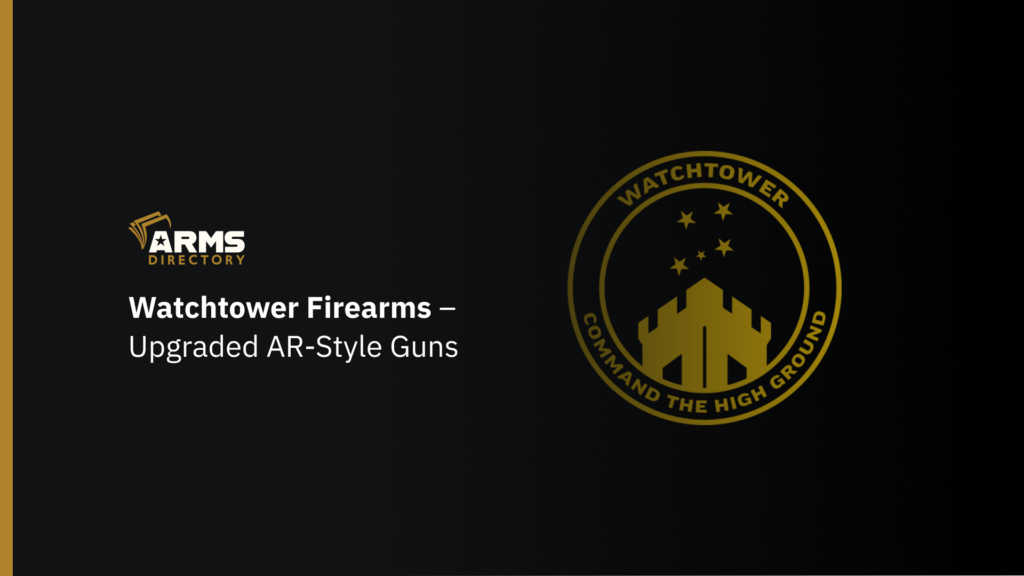 Watchtower Firearms – Upgraded AR-Style Guns
Watchtower Firearms is once again pushing the envelope on its AR-15-styled rifles to include a progressive set of upgrades for their HDR rifles. According to Robert O'Neil from Watchtower, their mil-spec rifles offer, among others, an upgraded PVD-coated bolt carrier group, three-port muzzle brake, and a match-grade barrel with an aggressive 1-in-8 twist chambered in .223 Wylde.
Watchtower has partnered with the world's best and biggest firearm component builders, including Vortex, Night Stick, and RISE Armament.
Arms Directory talks with Robert J. O'Neil, a highly decorated combat veteran, about his new line of AR-style rifles. Rob from Watchtower Firearms walks us through their AR-style firearms.
Todd : Can you tell us about the newest line of AR-style guns from Watchtower Firearms?
Justin : Absolutely. The new line is an evolution of our previous HDR, our standard mil-spec firearm with a billet receiver set. We've upgraded it with a PVD-coated bolt carrier group, extended controls, a three-port muzzle device, and a match-grade barrel with a 1-in-8 twist rate chambered in .223 Wylde.
Todd : What optics do you have for this line?
Justin : We partnered with Vortex for their new 3-power prism with an illuminated reticle. It has nice glass, is easy to use, and doesn't cause the starburst effect that some shooters experience when shooting with glasses.
Todd : Can you tell us about the tactical flashlight you've included?
Justin : We've added a Night Stick tactical flashlight, a company known for law enforcement lights. This is one of their first ventures into the civilian market, and it comes with an M-Lok setup and a pressure pad.
Todd : What kind of sling have you added to the gun?
Justin : We've included a tactical sling from McLean. It's set up as a two-point sling but can easily be converted to a one-point sling when needed.
Todd : What type of trigger is in this firearm?
Justin : We've replaced the standard mil-spec trigger with a RISE Armament 140 Rave trigger, which provides a crisp 4-pound trigger pull.
Todd : How can someone purchase this new line of firearms?
Justin : We recommend visiting your local firearm retailer. If they don't have this newest model, have the dealer call us, and we'll send it right out to them.
Todd : What is the price range for these firearms?
Justin : Depending on configuration and upgrades, the price range is between $1,980 and $2,200.
Watchtower Firearms has significantly upgraded its HDR guns, offering an exciting and versatile new product line for firearms enthusiasts. With improved components, partnerships with trusted brands like Vortex and Night Stick, and a competitive price point, these upgraded firearms will impact the market in a dynamic way.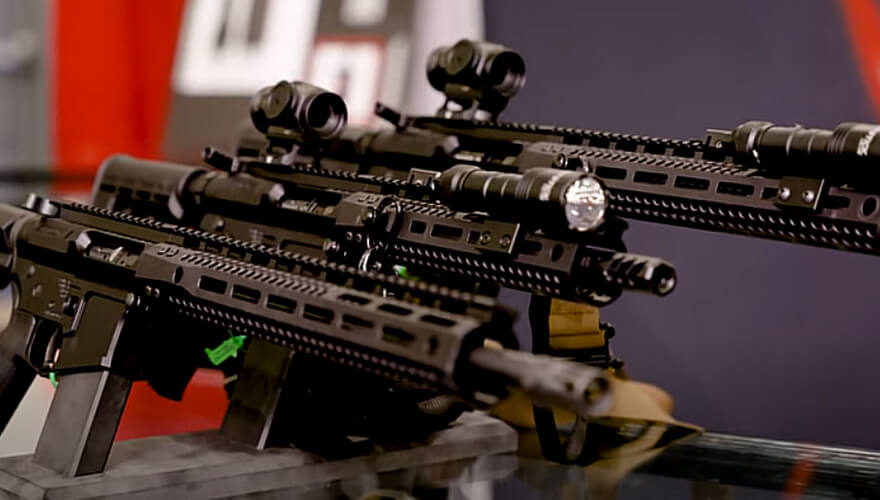 Details On These Exciting Upgrades
AR-style rifles from Watchtower feature a tactical flashlight from Night Stick to venture into the civilian market. These new additions to its rifles come with an M-Lok setup and a pressure pad. These new full-size, long-gun light kits are made from 6061 T6 aluminum, featuring a super bright, tightly focused LED light rated at over 1100 lumens with a 2-hour runtime. The innovative Night Stick has an RPS Picatinny rail mount.
Bolt Carrier Group
Watchtower Firearms features a PVD-coated bolt carrier group, giving this critical component extreme durability and highly effective corrosion resistance. These upgrades on the bolt carrier provide a diamond-like coating or DLC in a modern finish. Coatings are created with a process known as Physical Vapor Deposition, making the molt steel extremely strong and resistant to adverse environments. The DLC coating makes the bolt virtually scratchproof, withstanding scratching and peeling. Among other advantages, it gives the BCG a striking dark grey finish.
Vortex
Vortex Optics is one of the most technologically advanced scope and binocular companies on the market. Watchtower and Vortex Optics have partnered to offer. Each AR model features an advanced 3X Prism Scope, which sits on sturdy, full-length 1913 Picatinny rail for extreme accuracy.
The new HD 3X power cuts inches and ounces off the original design, giving the rifle a near-perfect aiming point and weightless configuration. These Vortex scopes are a shooter's dream come true. The Vortex AR-BDC4 Reticle gets the most out of the Watchtower firearm, with rapid target acquisition and holdover tools out to 650 yards.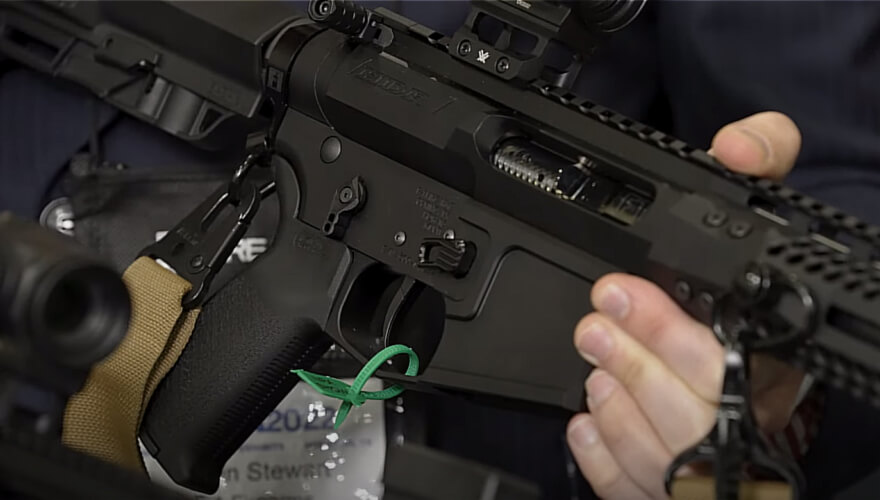 RISE Armament
Watchtower Firearms has gone much further in offering its clients the most stunning AR-style rifle available. The standard mil-spec trigger has been replaced with a RISE Armament 140 Rave custom trigger. Among custom triggers, the RAVR is the best-selling Super Sporting Trigger on the market. This improved trigger gives the shooter a smooth, crisp break, improving accuracy and comfort.
The single-stage RAVE offers shooters a crisp, 4-lb pull with no trigger movement between pulls. RAVE 140s are machined from a solid block of durable 6061 aluminum, giving shooters of all types flawless performance in every shooting environment.
McLean
Watchtower Firearms has added a dynamic retention sling from McLean. These patented slings are the perfect upgrade for AR rifles. Mclean's retention slings are a single-point structure with a much-needed retention mechanism. These dynamic slings allow the shooter to transition from a retained position to engagement immediately and are unmatched by any other sling on the market. Mclean Dynamic Retention Slings give the shooter the ability of a single point with a two-point retention.
Price Points
Watchtower Firearms has built a highly competitive, excellent AR-style rifle that will meet the wants and needs of every group of competitive shooters, hunters, and tactical personnel. Robert O'Neil and his group of skilled artisans have created a line of rifles unequaled in the American marketplace. Each military-styled rifle is crafted with exact tolerances, laying the groundwork for an "All American Made" premium line of firearms unequaled in the marketplace.
With several configurations to choose from, Watchtower Firearms offers their rifles at an affordable $1980 to $2200. Visit any local gun dealer for the latest model or contact Watchtower Directly to purchase one of these outstanding rifles.
The team at Watchtower is so confident in their line of AR-styled rifles that a lifetime warranty is offered on every product the company produces. Watchtower gives its clients the comfort of knowing any problem is fixed, or the rifle will be replaced.
Final Words
In conclusion, Watchtower Firearms has undoubtedly made a lasting impact on the world of firearms with their innovative and upgraded AR-style guns. Whether you're a competitive shooter seeking an edge in precision and speed or a firearms enthusiast looking for a firearm that combines style and substance, Watchtower Firearms offers a compelling solution. With a wide range of customizable options and a dedication to pushing the boundaries of what's possible in firearm design, Watchtower Firearms has earned its place among the top choices for those who demand the best.