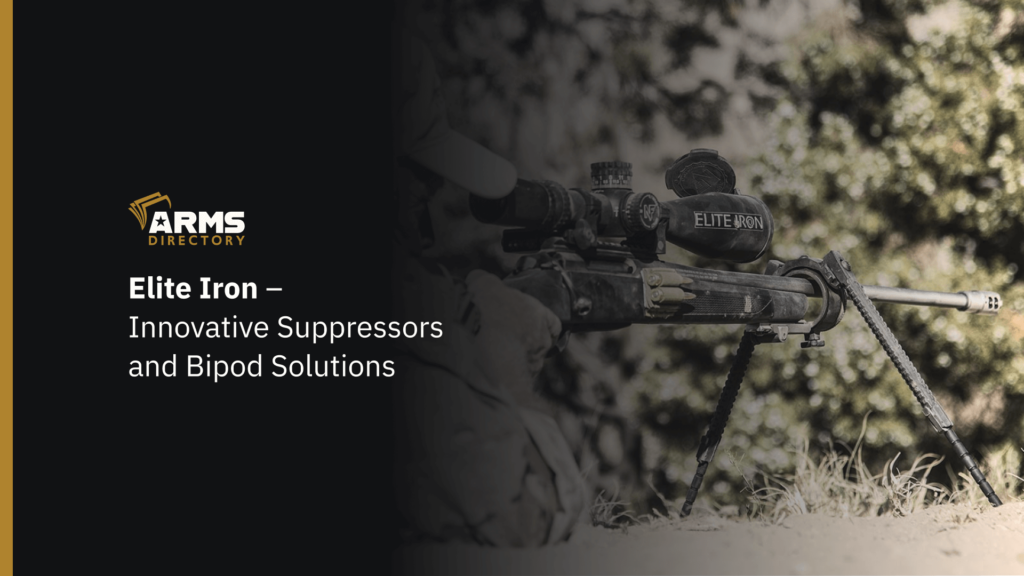 Elite Iron – Innovative Suppressors and Bipod Solutions
Arms Directory highlights Elite Iron – artisans of rifle and pistol suppressors as well as the Revolution Bipod, in an interview with Dale Poling.
Elite Iron products are designed for accuracy enhancement, sound reduction, strength, and stability. Elite Iron is a premium builder of professional-grade firearms suppressors, bipods, and accessories.
Located in western Montana, the staff has over 20 years of experience catering to elite shooters, hunters, and competitive sharpshooters around the globe. The company produces a line of rifle, and pistol suppressors that take the industry to new levels of craftsmanship and precision.
Elite Iron's patented ASSET®.375 Cal Modular Suppressor. This engineering marvel is built with titanium, aluminum, and 4140 heat treat construction. The ASSET® suppressor features a muzzle brake, two-stage construction, and everything needed for the powerful, long-range hunting calibers, from 300 Norma to the .375 Cheytac. The ASSET® comes in stunning colors of Black Cerakote, Glacier Forge, or Cerakote FDE.
The Battledog Suppressor offers a small, effective 30-caliber design for tactical situations. The suppressor works with the 7.62×39, 300 Blackout, and 5.56x45s. Elite Iron's Battledog dramatically reduces breech blowback. All models of suppressors provide 100% repeatability, and their innovative internal design minimizes the horizontal POI shift. Battledog suppressors use the BRAVO 1 brake and include a cover cap.
Interview: Dale Poling from Elite Iron
Todd: What can you tell us about the Asset suppressor?
Dale: The Asset suppressor is made of titanium and comes in two versions – the original Asset and the newer Asset Pro Light. The Pro Light is slightly shorter, and both versions offer excellent suppression and recoil reduction.
Todd: What are the differences between the original Asset and the Asset Pro Light?
Dale: The original Asset features all titanium internals, while the Pro Light has a mix of titanium and 7075 aluminum. Both are CNC machined and extremely robust, designed to withstand a lot of abuse. They also feature a unique muzzle break, which helps reduce recoil from the suppressor.
Todd: Can you explain the spiral design on the suppressor?
Dale: The spiral design serves two purposes. It is a torque vein system that helps disperse any sparks or flames, and it also happens to be our company logo.
Todd: What do the internals of the suppressor look like in these?
Dale: The suppressor has a two-section design with an encapsulated nut and a one-piece core. If the core is damaged, customers can send it back to us for replacement or purchase a different thread section.
Todd: What calibers can the suppressors handle?
Dale: The Pro Light series can handle up to .308 or .336, while the all-titanium Asset can handle up to .300 Win Mag.
Todd: How can someone purchase an Elite Iron suppressor?
Dale: Customers can visit our website at eliteiron.com for more information and pricing. To purchase, they can find a Class 3 dealer who can then contact us to do a form 3 transfer.
Todd: What are the price points for the Asset and Asset Pro Light suppressors?
Dale: The Asset Pro Light series is priced at $1,295, while the all-titanium Asset is $1,495.
Elite Iron's Revolution Bipod
Bipods are foundational gear for elite shooters and precision rifles. American Frontiersman used improvised bipods (sticks tied together) on rifles as far back as the nineteenth century. In 1938, prior to the Second World War, bipods were developed to provide soldiers with stabilized shooting platforms.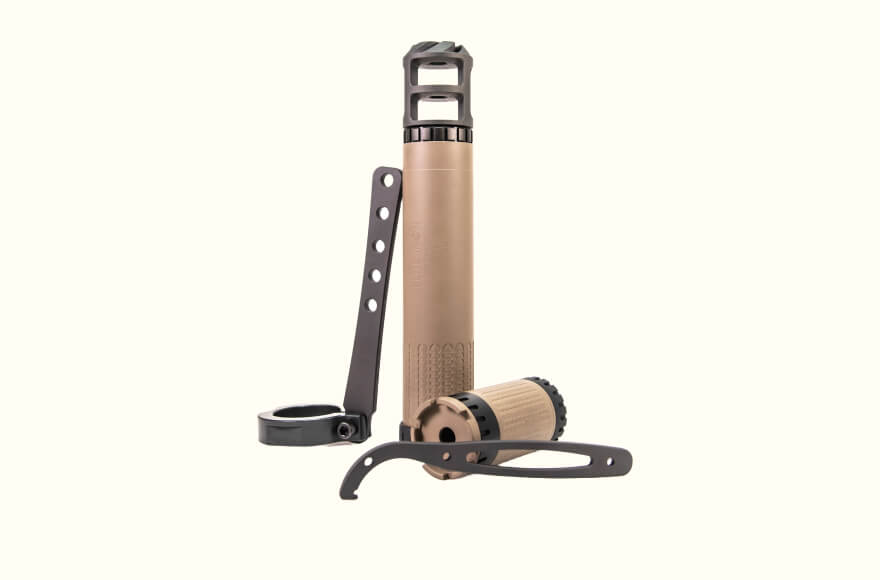 Elite Iron has produced a revolutionary bipod supersystem for true connoisseurs. The Revolution Bipod comes in 4 advanced designed models.
Each bipod system from Elite Iron features stability, adjustments on the fly, and superior strength of design for the tactical world. There are plenty of instructions, videos, and topics for each model suppressor if you want to learn more.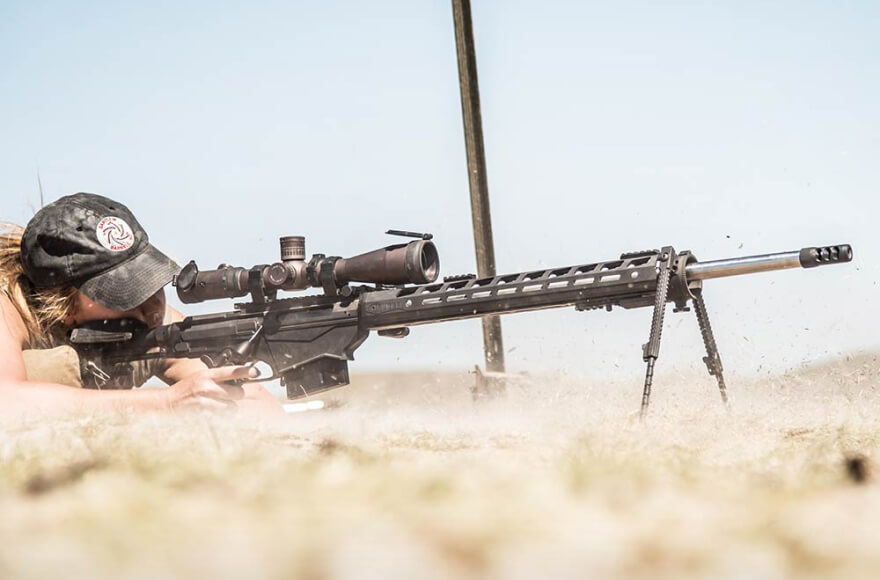 Mounting options include the Quick Connect, ARCA, and Offset Picatinny rail. Other advancements include:
The Revolution Bipod places the rifle barrel under the apex of the legs, NOT on top like many other competitors. The shooter is getting a clear line of sight down the barrel. The barrel is not required to be centered on the vertical axis of the ring.
The rifle can revolve on a 360-degree axis, and any rifle position can be locked in place.
Bipod mounts are equipped for a variety of shooting and skill levels. Choose from standard offsets, medium, and XTra high. ARCA, Sako, and Quick Connect round out the excellent selection.
No exposed springs or stamped parts and the finest metals are used.
Elite Iron provides all the accessories, muzzle devices, and suppressor warps to customize each new product for the shooter.
A staggering number of great interface designs are offered. The Quick Connect Mount requires an interface. Designs include the Accuracy International Spigot, Savage BA110 Quick Connect, and the Picatinny Rail to OD Interface.
Elite Iron
Elite Iron provides a complete shopping experience. Ballistic and metallurgical knowledgeable staff give a unique insight when purchasing such a critical device for your rifle or pistol.
Owners and staff of Elite Iron bring several lifetimes of experience to the table. From top to bottom, Elite Iron staff spend time with clients to help them choose the correct ASSET® suppressor and Revolution Bipod. Adhering to meticulous attention to detail is evident.
Final Word
Few companies are so dedicated to their business, and the passion is evident throughout the product line and interactions with staff. Their YouTube channel provides informative content for those interested in suppressors and bipods.
The ASSET® suppressors and Revolution Bipod set the bar incredibly high for any of its competitors.
To find the nearest local store, check out our business directory or check out their own dealer map.