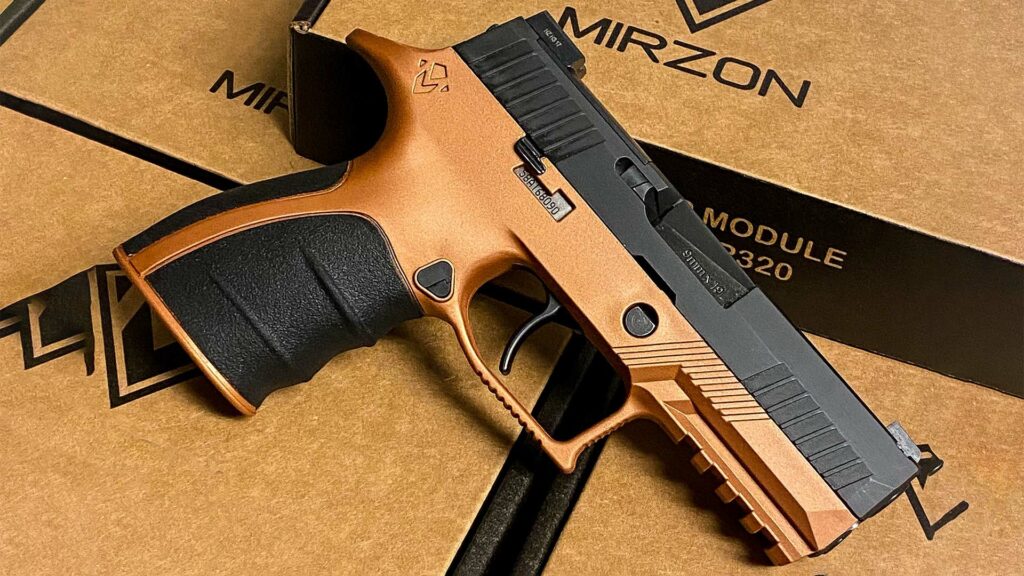 Brand Spotlight: Mirzon Grips and Their Innovative P320 Grip Modules
In this Brand spotlight, we're taking a look at the innovative grip modules from Mirzon Grips for the SIG SAUER P320 platform. We had the opportunity to speak with Yuri Mirzon, the founder of Mirzon Grips, to learn more about their product offerings and what makes their grips unique.
Mirzon Grips offers innovative, comfortable, and ergonomic grip modules for the SIG SAUER P320 platform that address the common concerns of the standard grips. With a variety of colors and finishes available, as well as compatibility with most P320 models, Mirzon Grips are a great option for P320 owners looking to enhance their pistol's performance and comfort. Watch the video here or read the transcript below.
Todd: What sets Mirzon Grips apart from other grips on the market for the SIG P320 platform?
Yuri: We offer a non-permanent grip module replacement for the P320, which is the most comfortable, softest shooting polymer gun available. Our grip modules feature a higher purchase with a higher undercut, an extended beaver tail for better stability, and a wider grip for improved mechanical advantage.
Todd: How do your grips address the issue of aggressive stippling and serrations?
Yuri: We use rubber material for them, which provides an excellent grip without being too aggressive. We avoid using abrasive serrations and instead include subtle index points on the frame for better control without causing discomfort to the user's hands.
Todd: Are your grips compatible with the whole P320 family of pistols?
Yuri: They are compatible with the different P320 pistols, except for the XCompact version. However, we have developed a separate grip for that model.
Todd: What accessories are available for Mirzon Grips?
Yuri: We offer a magwell and base pads for the grip modules. The magwell is larger than the traditional SIG magwell, which makes for easier reloading, and we have base pads to accommodate 15-round magazines in a 17-round grip, saving SIG owners money on needing to buy new magazines.
Todd: How can people purchase one of your products?
Yuri: They can visit mirzon.com to order the grip modules, which are available in various colors, including plastic and Cerakote finishes.
Todd: What is the price range for the grip modules?
Yuri: Our basic grips start at $120 for basic plastic colors like black, coyote tan, or gray. Single-color Cerakote finishes are $30 more, and any of our distressed colors are $50 more. We strive to keep costs as low as possible for our customers.