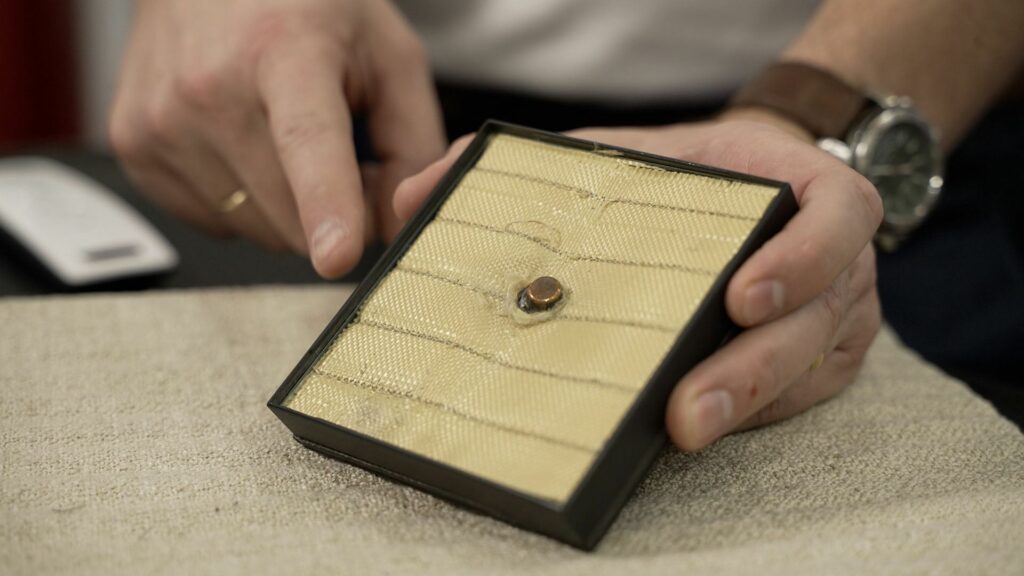 Brand Spotlight: Ballistic Barrier Products
Ballistic Barrier Products is a leading company in ballistic protection solutions for residential, commercial, and industrial applications. They specialize in developing and manufacturing various products that provide superior protection against ballistic threats, including window blinds, curtains, and doors.
With experts who have many years of experience in ballistics engineering, they are committed to delivering the highest level of protection to every customer. Ballistic Barrier is known for their innovative designs, use of advanced materials, and rigorous testing that help ensure their products exceed the highest standards across the industry.
We caught up with Kyle from Ballistic Barrier Products to learn more about their different bulletproofing options for homes and businesses. Watch the video here or read the transcript below.
Todd: So, tell me a little bit about what it is that you guys make.
Kyle: Our product is unique in that it is the first time that there's a true bullet-resistant window blind on the market. As you can see, the key to this product is that it looks like standard blinds. It's attractive, and it's something that you would want in your own home. It's easy to install. We modeled it after the industry standards for window blind installation, so if you can install any of the window blinds from Home Depot or Lowe's, you'll be able to handle the installation of these as well. It takes less than 30 minutes. We send you a kit with the full instructions, and customer service is ready to help you out if you get stuck on anything. We're really proud of our product. We were looking to provide something to add a level of protection and security for residential spaces, especially with problems like drive-by shootings or rioting that might be in your area, stray bullets, and even hurricane and tornado protection as well.
Todd: Excellent! I see it comes in a very nice neutral color. Is it available in any other colors right now?
Kyle: Yes, it's fully customizable. That was a key to our product offering; being able to provide any type of fabric or print on it.
Todd: What are the blinds made of?
Kyle: The core of the window blind is a DuPont-made Kevlar, so it's a hundred percent USA-made. From there, we laminate or sew on whatever color fabric you want. You can send us examples of what you're looking for, and we'll track it down for you. You can even send us rolls of your own cover fabric or print patterns, and we'll have it printed on the blinds. The goal of this is to make sure it's a perfect fit for any home and that it's a match for your interior styling.
Todd: How do I get something like this? And, what kind of price are we looking at to cover several windows?
Kyle: So, it is Kevlar and it's got, in essence, the same number of layers that you would have in Kevlar body armor. Kevlar is not an inexpensive material to begin with. So, it is a little bit on the pricey side, at about $150 per square foot. You can use that to estimate what it would cost to cover the windows in your home. To start the ordering process, simply go to our website; www.ballistic-barrier.com. There's a contact form on there. Let us know what kind of blinds you're looking for, and then we'll immediately reach out to get more details like measurements and the cosmetics you want, and then we'll take it from there.
Todd: So you can pick and choose what areas of your home you want to "harden," so to speak. What other applications does this product cover?
Kyle: Besides residential windows and doors, we also offer them for commercial use. So storefronts, that might be in a situation where you're, you're worried about things like rioting happening down the street, or other things that might come through your doors or windows. We also have an industrial application where we'll get rid of the pretty cosmetics and make them more industrial and easily serviceable. That might be something that you'd use for blast protection to cover testing equipment.
Todd: Great. And they can get in touch with you at www.ballistic-barrier.com.
Kyle: Yes, you can contact us through the contact page; then, we'll call you and start working out the details.