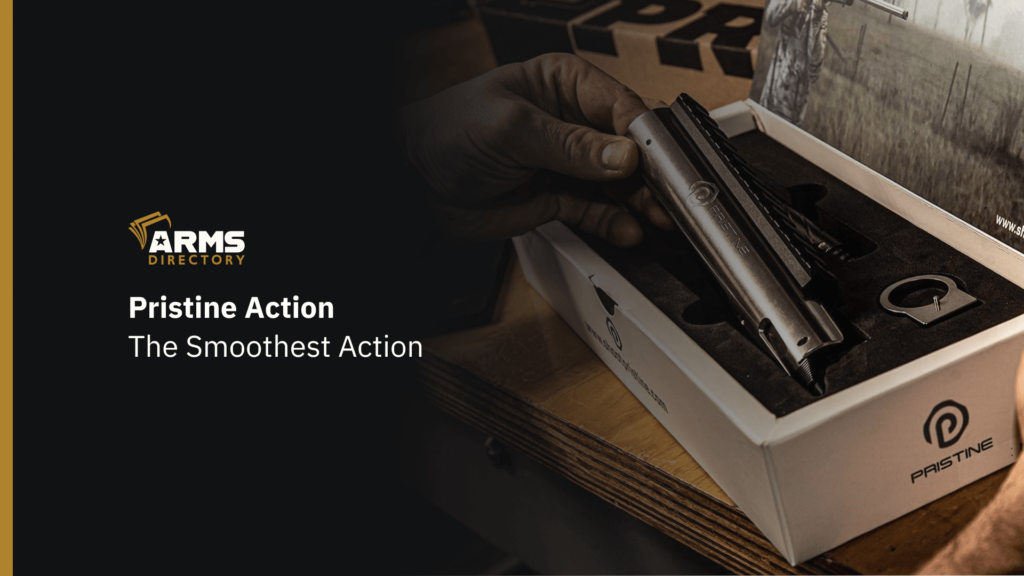 Pristine Action – The Smoothest Action
When a shooting sport has become more than just a hobby or weekend excursion, competitive shooters demand precision components engineered for excellence. Only the best equipment is acceptable.
Custom bolt action rifles are a skyrocketing subset of the industry and share many characteristics with reticles in the optics field. Technology is a significant contributor to the bolt action market and optics demand.
What Is the Pristine Bolt Action Receiver?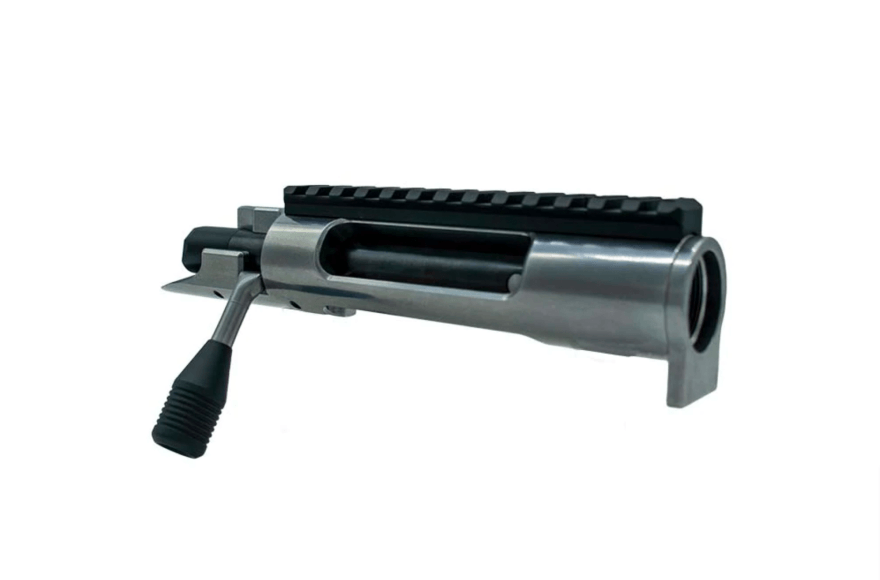 Good shooters across the spectrum require better gear to stay competitive, including bolt actions for greater firing tolerances and precise aiming, and Pristine Actions give shooters that edge.
Long-range hunting adventures and the PRS Series are where you will find the Pristine Bolt Action Receiver , chambered for the .223 and .308 calibers and the .445 in Bolt Face.
Pristine Action has engineered a premium rifle component designed for long-range hunting scenarios, competitive shooting, and tactical professionals. When describing only the "best a rifle can give" , firearm professionals of every discipline say the same thing: "a very smooth action."
In 1836, the Johann Dreyse firing platform revolutionized the firearm industry. Going from the ball and cap muzzle loader to the world's first bolt action rifle – the breech-loading "Needle Fire Striker System" and the Needle Rifle.
From then on, the bolt action became the foundation for every rifle system made and a quick way to improve competitive accuracy with hunting efficiency.
The Pristine Action process takes its revolutionary queues from the Needle Rifle. The Pristine Bolt features a 6-lug design with a responsive and light 90-degree lift. This efficient design allows maximum lift distance, giving the Bolt lift a favorable "light touch."
The Elite Pristine Bolt Action Receiver material is a solid piece of pre-hardened 416 stainless steel. The 416 alloy is created for a robust, demanding application requiring a non-seizing metal and corrosive environment resistance.
Pristine uses the 416 for its barrels because of the high tensile strength and corrosion resistance. When a higher-strength heat-treated component is needed, 4340 steel is employed. 4340 steel has high carbon strength, excellent machining applications, and a smooth finish. Pristine takes the extra step of nitriding the bolt, leaving a fabulous case-hardened surface.
Use the imaginative versatility of the Pristine Bolt Action, and go from a .308 to a .223 in less than five minutes; Pristine's Action bolt makes it effortless. Use this industry-leading bolt action in the most competitive shooting and hunting scenarios.
Drop in the Pristine Bolt Action Receiver with a Remington 700 chassis for extraordinary versatility, accuracy, and unparalleled durability.
Arms Directory talks to Dre from Pristine Action about what makes their actions stand out.
Todd : What can you tell us about the new Gen One Pristine Action?
Dre : Pristine Action was developed by passionate engineers and combines the best features in the industry and is over-engineered. It's working off a Remington 700 platform. We over-engineered everything to create the smoothest action in the world, which can be manipulated with just one finger.
Todd : How did you achieve such a smooth action?
Dre : We use a proprietary design with our rolling pin that allows for that smooth action. We take the best features in the industry, improve upon them, and elevate them even further.
Todd : Does the Gen One come in any other colors?
Dre : Currently, it only comes in plain silver, but we do accept custom orders for clients who want it Cerakoted in a different color.
Todd : What different calibers can you get with the Gen One?
Dre : It works with multiple calibers. With a simple swap of a bolt head and barrel, you can maintain the same action, chassis, and scope while changing calibers.
Todd : What is the Gen One compatible with?
Dre : Our action is a drop-in for the stock Remington 700, as well as aftermarket triggers and chassis like MDT and any pre-fitted Savage barrels. It's like putting everything together like Lego.
Todd : How can customers get in touch if they have questions?
Dre : You can email us at [email protected] or [email protected]. We're a small family company, and we understand and care about the needs of our clients.
Pristine Bolt Action Receiver: Why Do You Need It?
Pristine's Bolt Action Receiver is a direct drop-in replacement for the classic Remington 700 Chassis. No equipment or tools are needed. The 700 system and Pristine's Bolt Action are built for a wide range of hunting and competitive shooting situations, with a long list of innovative stock materials such as high carbon fiber and fiberglass.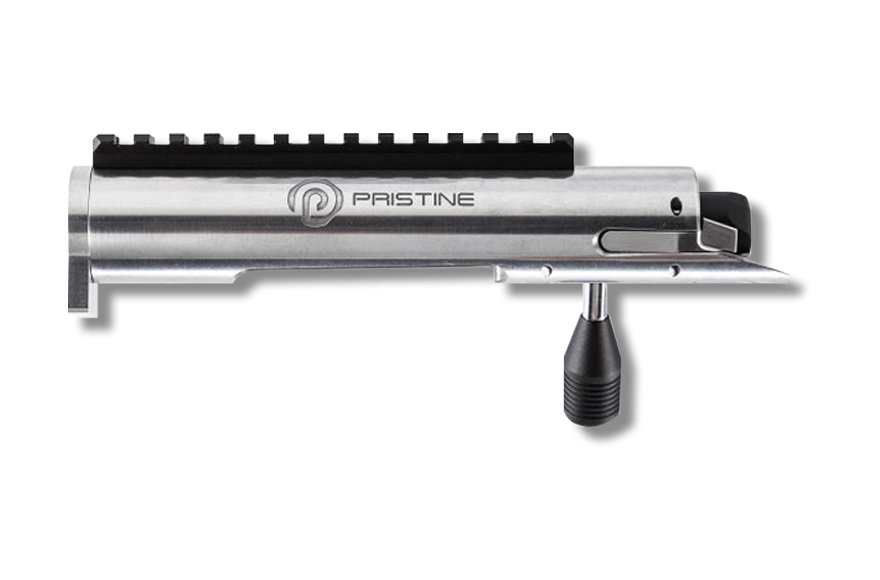 Pristine's higher clamp force handles any over-size bolt issues common with other aftermarket actions. Maintaining a consistent cleaning schedule for the bolt and other components is required.
Pristine Action's unique bolt shroud is another efficient upgrade design from Pristine; built with exacting tolerances and advanced build materials, so no more tarnishing and corrosion.
Pristine balances the bolt weight to enhance the throw and speed up the shot cycling. Only 4 pounds of weight is needed to lift the bolt. Combine Pristine's dual ejectors and a Saiko Style extractor giving the bolt a more consistent ejection cycle with minimum failure.
Pristine's Frictionless Cocking Mechanism reduces the time for follow-on shots which is a desirable attribute when shooting competitively. Their specialized metal reduces wear and tear, requiring much less lubrication. Their metals are an advantage, especially for working well in harsh conditions. The degree of lift is so well-balanced and light it keeps the rifle on target longer.
Pristine Actions are compatible with nearly every magazine, chassis, and trigger assembly on the market. The Pristine Action's legendary compatibility with the Remington 700 chassis system has amassed a stockpile of great shooters. Barrels with a small shank pre-fit will accept the action.
Pristine's Roller Wheel Cocking piece is a masterpiece of innovation. Classic shooters will be able to lift the bolt handle, slide it back to grab the next round, and drop the bolt in a single smooth operation.
Pristine engineers use a hardened steel roller with a heavier firing pin spring for consistent primer strikes and smoother action. The ergonomic design of the bolt, coupled with a solid rifle chassis and added quality components, can make for a superior long-range rifle.
Shooters with precision and accuracy choose a bolt receiver with capabilities such as the .new 445 IN BOLT FACE. The Pristine Bolt Action offers the broadest range of bolt face diameters without breaking the bank.
Pristine continues to add bolt faces to its lineup, with a magnum edition coming soon. Run multiple calibers off one Action with Pristine's bolt-face caliber options.
Pristine's floating bolt head design ensures the bolt face remains perpendicular to the barrel and cartridge at each shot. Accuracy is improved by eliminating misalignment caused by dirt and grime in the action. The system allows shooters to change calibers without a gunsmith.
Final Words
Pristine Action designers strive for perfection, continually improving the look, feel, and performance of their Pristine Bolt Action Receiver. Drop in one of their bolts and instantly improve long-range targeting capability.
Want to meet fellow Pristine Action fans, browse our business directory today!