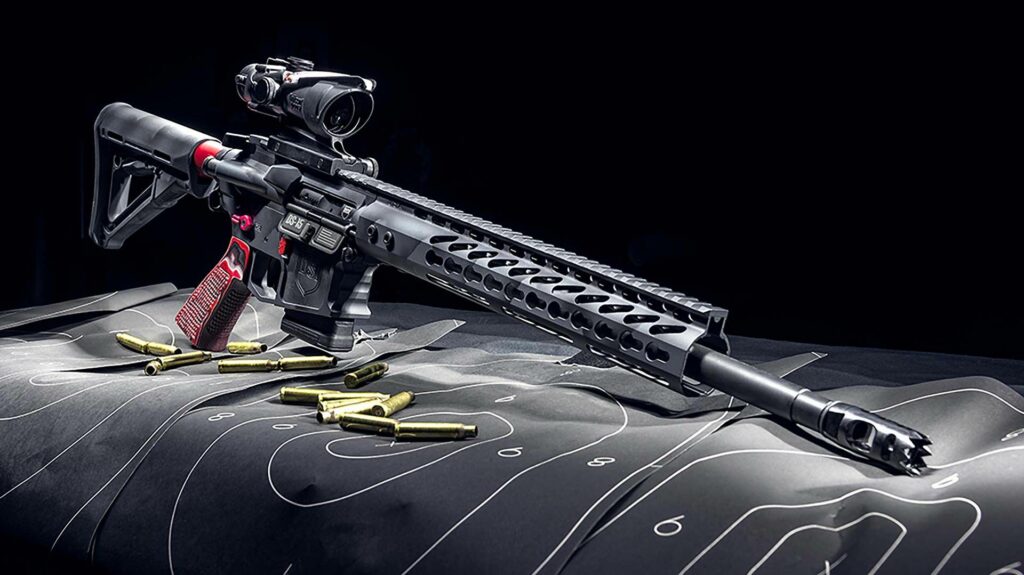 Brand Spotlight: Dark Storm Industries – Innovating Firearms for Every State
Welcome to another edition of our Brand Spotlight series, where we delve into the world of firearms with industry experts. Today, we're taking a closer look at Dark Storm Industries, a company making waves with their 50-state-compliant ARs and innovative designs. We had the opportunity to speak with Brett from Dark Storm about their latest offerings and the story behind their success. Watch the video here or read the transcript below.
Todd: Can you tell me a little bit about your DS-25?
Brett: Our DS-25 is a small frame .308 firearm based on the AR-15 platform. We've modified the upper and lower receiver sets to accommodate the larger casing. The rifle uses three proprietary parts: the barrel, the bolt carrier group, and the buffer tube. The rest of the firearm uses standard mil-spec AR-15 parts. It only weighs six and a half pounds, and it recoils like a 5.56.
Todd: Is the DS-25 made from billet?
Brett: Yes, it features a 7075 billet precision-matched upper and lower receiver set, along with a profile-matched free-float M-LOK handguard. It also has ambidextrous billet controls, extended takedown pins, and over-molded Hogue furniture for the pistol grip and adjustable stock.
Todd: What is the price point for the DS-25?
Brett: The complete rifle has an MSRP of about $1,495. We also offer a builder's kit for around $995, which includes the receiver set, barrel, bolt carrier group, and buffer tube.
Todd: Where can people find more information about your products?
Brett: They can visit our website at dark-storm.com.
Todd: Can you tell us a little bit about the history of Dark Storm Industries and the motivation for creating this rifle?
Brett: Dark Storm Industries was created 10 years ago in response to Hurricane Sandy and the subsequent political storm surrounding gun legislation in New Jersey. We patented a new style lower receiver that bypassed new legislation, allowing ARs to return to gun shop shelves. Today, we are the largest manufacturer of 50-state-compliant ARs.
Todd: You also have a new rifle, the DS-15 Lightning. Can you tell us more about that?
Brett: The DS-15 Lightning is designed for target shooting and competitive three-gun shooting. It features a single-stage, four-pound drop-in trigger, a mid-length stainless competition barrel with a 1:7 twist, and a competition stainless compensator. The retail price is $1,495.
Todd: How can people order the DS-15 Lightning?
Brett: They can go directly to our website, www.dark-storm.com, or find an authorized dealer that's near them.
Dark Storm Industries continues to innovate and provide firearm enthusiasts with high-quality, 50-state-compliant AR options. Their commitment to designing firearms to fit into every state's regulations showcases their dedication to customers and the industry as a whole. Keep an eye on this trailblazing company and their cutting-edge product.